Review

Open Access

Open Peer Review
This article has Open Peer Review reports available.
Understanding nurses' dual practice: a scoping review of what we know and what we still need to ask on nurses holding multiple jobs
Human Resources for Health
2018
16:14
Received: 4 October 2017
Accepted: 9 February 2018
Published: 22 February 2018
Abstract
Background
Mounting evidence suggests that holding multiple concurrent jobs in public and private (dual practice) is common among health workers in low- as well as high-income countries. Nurses are world's largest health professional workforce and a critical resource for achieving Universal Health Coverage. Nonetheless, little is known about nurses' engagement with dual practice.
Methods
We conducted a scoping review of the literature on nurses' dual practice with the objective of generating hypotheses on its nature and consequences, and define a research agenda on the phenomenon. The Arksey and O'Malley's methodological steps were followed to develop the research questions, identify relevant studies, include/exclude studies, extract the data, and report the findings. PRISMA guidelines were additionally used to conduct the review and report on results.
Results
Of the initial 194 records identified, a total of 35 met the inclusion criteria for nurses' dual practice; the vast majority (65%) were peer-reviewed publications, followed by nursing magazine publications (19%), reports, and doctoral dissertations. Twenty publications focused on high-income countries, 16 on low- or middle-income ones, and two had a multi country perspective.
Although holding multiple jobs not always amounted to dual practice, several ways were found for public-sector nurses to engage concomitantly in public and private employments, in regulated as well as in informal, casual fashions. Some of these forms were reported as particularly prevalent, from over 50% in Australia, Canada, and the UK, to 28% in South Africa. The opportunity to increase a meagre salary, but also a dissatisfaction with the main job and the flexibility offered by multiple job-holding arrangements, were among the reported reasons for engaging in these practices.
Discussion and conclusions
Limited and mostly circumstantial evidence exists on nurses' dual practice, with the few existing studies suggesting that the phenomenon is likely to be very common and carry implications for health systems and nurses' welfare worldwide. We offer an agenda for future research to consolidate the existing evidence and to further explore nurses' motivation; without a better understanding of nurse dual practice, this will continue to be a largely 'hidden' element in nursing workforce policy and practice, with an unclear impact on the delivery of care.
Keywords
Nurses dual practiceMultiple job-holdingMoonlightingHuman resources for healthPrivate health sectorNursesCasualization of work
Background
Health workers' dual practice has been identified as one of the priority research areas in the human resources for health domain [1]. There is a concern among policy-makers and patients alike that simultaneous engagement with public and private sector activities jeopardise the availability of professionals and the quality of services in the public sector and divert patients towards costlier private care, therefore putting at risk the attainment of Universal Health Coverage (UHC) goals [2, 3].
'Dual practice' in the health sector has been defined as health workers' concomitant engagement in public and private sector clinical activities, with the public sector job representing the 'primary' one to which the largest proportion of working hours are allocated [4]. Although very common worldwide, the practice has been traditionally treated with suspicion by the public health and health system research literature, amid fears that it may compromise the supply of public services [5] and encourage absenteeism in public institutions [6], as well as the selection and diversion of patients towards private services [7]. Scholars have highlighted the possible potential benefits of the practice, such as the opportunity it offers to provide a wider range of health services to the population and to retain underpaid workers in the public sector [8]. Others have paid attention to the regulatory aspects [9], with some focusing on the systems' governance and institutions [10] and others on the incentives to be offered to achieve the desired level of service provision [11, 12].
Substantial literature exists on physicians' dual practice [13, 14], most recently building up evidence on its prevalence, forms, and drivers worldwide [15–17], as well as on modelling possible regulatory frameworks [12, 18]. However, nurses' engagement in multiple job-holding is, in comparison, less explored, despite preliminary evidence of its high prevalence in high-income [19] as well as in low-income settings [20], and amid concerns of its impact on the nurses' wellbeing [21].
Nurses and midwives are the world's largest group of health professionals, representing 48% of the global health workforce, and their role is widely considered critical for the delivery of UHC goals in high- as well as low-income countries [22]. However, the profession has recently come under pressure because of growth of the demand for health services and concomitant scarcity of funds, and the global shifts in the world's health labour market [23]. As the nursing workforce is predominately female, policy options to address nurses' participation in the public and private labour market will need to take gender into account [24, 25].
This scoping review sets out to fill this knowledge gap by systematically searching and reviewing the studies conducted on nurses' simultaneous engagement in public and private clinical activities [26]. Its specific objectives are (1) to map out the existing literature on the subject, determining its prevalence and distribution across geographies, publication types (e.g. peer-reviewed, grey), and specific topics addressed; (2) summarise the evidence, perspectives, and specific contents addressed; and (3) propose an agenda to advance research and development activities to first identify and then mitigate any pervasive effects of nurses' dual practices to UHC, based on the scoping review results.
Methods
A scoping review was conducted to determine the extent and key themes within the literature on nurses' dual practice, as well as to identify areas for future research on the topic. Such knowledge synthesis method is commonly used to address exploratory research questions, to map the existing literature on a field or to preliminarily identify gaps in that literature [26–28]. We used the five Arksey and O'Malley's methodological steps to develop the research questions, identify relevant studies, include/exclude articles, extract the data, and report the findings [28]. As the methodological guidance for the report of scoping review is still under development, we used the PRISMA guidelines where appropriate [29].
In March 2017, we searched MEDLINE (through PubMed), the ISI Web of Knowledge, Scopus, and the CINHAL Plus with full texts (through EBSCO). We used a set of keywords for the searches and, where appropriate, Medical Subject Headings for nurses combined with keywords and indexed terms related to dual practice (using the Bolean operator 'AND'). Additional file 1 provides full details for the initial search strategy for each of the databases searched. The grey literature also was searched by visiting websites dedicated to nursing and/or health workforce issues. To widen the scope of the review, the searches on databases and grey literature were not filtered for publication date, language, or publication type. Human resources for health experts (named in the Additional file 1) were a priori contacted to provide relevant references on forms of dual practices among nurses. A posteriori (early December 2017), and based on suggestions coming from the peer-review process, we expand the search terms in the database searches (adding the keywords 'temporary employment' and 'multiple employers') to provide a few additional records which were considered for the review results, as well. Iterative rather than strictly streamlined procedures are typical in the process of conducting scoping reviews [26]. A final search strategy included snowballing searches (reference list scanning, author tracking) performed on the articles preliminarily selected. References from databases or other sources were filtered through the same eligibility criteria.
To be included, studies needed to address explicitly both nurses and dual practice issues. The working definition for the 'nurses' category contained explicit reference in the text to the professional label, with midwives included too. The working definition of dual practice, in turn, referred to concomitant practice in two (or more) distinct clinical services, either in the same or in different healthcare institutions. Public employment was considered the primary job, whereas the secondary (or subsequent) job(s) was considered the one(s) where fewer working hours were spent, periodically or regularly. Alternative labels for dual practice included 'moonlighting', 'public-private work', 'multiple profit-generating activities', 'dual/multiple job-holding', and 'second jobs'. 'Casualization of work', defined as the process of replacing full-time and regular part-time staff with contract staff employed on an ad hoc basis, is another phenomenon related in many ways to dual practice [30]. As such, papers addressing this form of employment in relation to dual practice were also included.
Documents in English, French, Portuguese, Italian, and Spanish were included. With the exception of journal commentaries, editorials, and letters to the editor, we did not exclude references because of the type of article (such as opinion pieces), study output (e.g. final or preliminary results), countries or world regions, publication status (i.e. both peer-reviewed and grey literature), or publication date. Titles and abstracts were first screened by one of the authors (TJ) and then reviewed in duplicate by the first author (GR), who finally determined the suitability for the full-text review. Full-text review was carried out by one of three authors, all with a research track record in nurse workforce and/or dual practice issues (GR, IF, JB). Any of the authors were able to directly include or exclude papers on the basis of the eligibility criteria; agreement between two or more reviewers was sought for doubtful cases.
Based on the overarching aim of the paper, the preliminary knowledge of the literature, and a priori consultation with health professionals [
13
], we developed the following set of questions to guide the data extraction for the review:
What are the forms in which nurses engage in multiple profit-generating activities?

What are the different features of nurses' multiple job-holding?

What is the prevalence of this phenomenon in nursing?

Why do nurses engage in dual practice?

What are the enablers and barriers for nurses' dual practice?

What are the personal/ professional drivers and consequences?

What are the consequences for health systems, specifically for the delivery of quality and safe nursing/health care?

What are the consequences for nurses' welfare?

What are the consequences for patients?

What are health workers', managers', and patients' perceptions around this practice?
Data extraction tables were then purposively built by the research team to collect data on the specific questions above, either using textual data or synthesis of the articles' findings/conclusions. Consistent with the scoping review methodology, the data extraction did not involve quality appraisal or grading of the evidence from the studies.
A conventional form of qualitative content analysis, with coding categories derived directly from the text data, was used to analyse data retrieved for each topic [31]. The first author performed a first synthesis of the extracted material, that was then iteratively edited by two of the other authors (IF, JB) following the themes from the data extraction table.
Findings from the literature review on nurses' dual practice
From 228 records retrieved, 159 (70%) were excluded after reviewing their titles and abstracts (Fig.
1
). An additional four articles were identified through snowballing search strategies, resulting in a total of 73 full texts assessed for eligibility. Of all these, a total of 35 (48%) articles finally met the inclusion criteria for addressing dual practices of nurses: 20 using predominantly quantitative methods and 15 using mostly qualitative designs. The vast majority of the studies were in English, with only four published in Portuguese and one in Spanish. Additional file
2
provides spreadsheets for the (a) list of included articles organised by study-type, (b) the data extraction table, and (c) list of articles excluded with the respective reasons.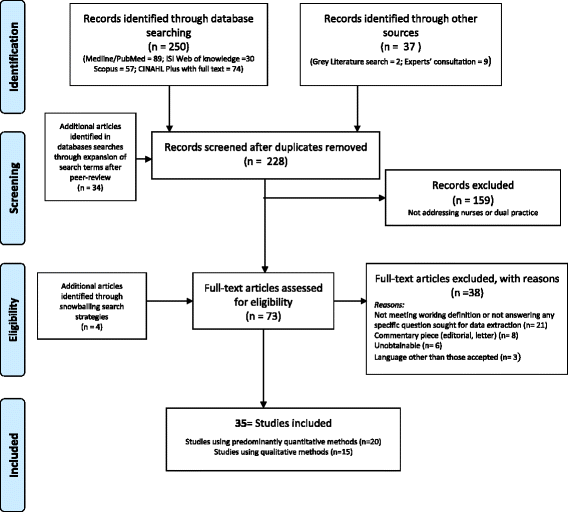 The vast majority of such documents (65%) were peer-reviewed publications, with the remainder being nursing magazine publications (19%), reports, and doctoral dissertations. Twenty publications focused on high-income countries (particularly on the USA, UK, Canada, and Australia), 16 on low- and middle-income ones (South Africa, Ethiopia, Iran, and Uganda), and two provided a global view on the phenomenon. Many of the documents (n = 28) reported information on the prevalence of the phenomenon, and discussed its different forms (25). Drivers and motivations of nurses' multiple job-holding were the subject of 10 (out of 38) of the documents, while individual and institutional consequences of the practice were discussed in 9 and 12 pieces, respectively. Only seven of the retrieved documents mentioned policy options associated with nurses' multiple-job holding. Below we present the literature retrieved, organised in sections reflecting the emerging themes.
Discussion
Our review revealed that nurses engage in multiple job-holding activities, with varying forms and prevalence in high-income as well as in low-income countries. The practice appears to be driven by multiple, complex, and varying factors beyond the obvious economic motif, and to have non-trivial consequences, particularly for nurses' welfare, organisation of health services, and health labour market. Despite its prevalence and relevance, a surprising paucity of studies was found on nurses' dual practice, and very few policy options have been outlined in the literature to address the phenomenon.
Although in the nursing profession holding simultaneously multiple jobs cannot be necessarily considered as dual practice, the two areas often overlap, in shapes of poorly demarcated contours. Consistently with what is observed for other professions, more than one way seems to exist for nurses to engage with dual practice, both in regulated and informal, casual fashions. This may at least in part explain why the practice has been under-reported and little regulated through the years, with some of its forms driven underground or even considered illegal in some countries [34], and other forms—such as the 'casualization' of nursing services—only recently having come to the fore in the context of rapidly evolving health labour markets [33]. This absence of usable datasets would call for primary research to be conducted to, first, explore through qualitative research the specificities of the phenomenon and, second, to measure them quantitatively.
Unsurprisingly, our review of the available evidence appears to show that economic considerations are not the sole driver for nurses taking on simultaneous multiple jobs [33, 54]. A basic dissatisfaction with the limited range of duties performed in their main job, limited opportunities for development, or availability of time made possible by night shift arrangements, are other important factors that may help explain such a decision. Although much effort has been devoted in the past to understanding nurses' burnout [55, 56], surprisingly little attention has been given to the tendency to take on additional work in presence of an already heavy workload.
In contrast to the comparatively better understood physician dual practice, the limited evidence reviewed suggests that nurses' dual practice is more likely to be bounded by the very nature of their jobs than it is for physicians, as typically nurses have limited autonomy and tend to work as part of a team, rather than as individual providers. On this basis, a hypothesis could be made that, while nurses are more likely to be part of an established team in their main (public sector) job, second jobs are often taken up as individuals, as agency nurses for one shift, or private home care visits.
Nurses' personal characteristics also appear to shape forms and extent of the practice in any one country. Since taking up additional work in the private sector may be financially rewarding, but will also add to overall workload and may not necessarily increase career prospects, younger and comparatively lower paid nurses seem to be the ones likely to engage more in the practice [35, 39]. As a compounding factor, as nurses are predominantly female and often perform a disproportionate share of child-rearing and care for elderly or disabled relatives' duties, we may speculate that having dependents will likely decrease their ability to take up additional hours, unless the additional income generated can compensate for any additional child care costs.
The evidence available suggests that the consequences of this phenomenon are not negligible, particularly for the health of those nurses ending up working longer hours and hospital shifts because of their multiple commitments [39, 51], but also for the organisation of public and private health services facing a more 'casual' and less-committed kind of workforce [21]. Interestingly, the most recent literature on nursing and midwifery enterprises [24, 25] recognises this limitation and may lay the grounds for a different type of engagement of nursing staff with private sector activities. We also did not find any evidence regarding the importance of economic considerations of nurses' dual practice, or of any difference between higher and lower income countries; as we suspect the implications of such practice may have substantial repercussions on the health labour market, this could represent an area of future research.
This paper is based on a scoping exercise and so has limitations. The limited and often incomplete evidence made it difficult to be certain if dual practice is a factor of relevance in all health systems worldwide, if it is a major issue for nurse labour market participation, and its overall impact on the provision of care. With respect to the latter, this may be because some aspects of dual practice are on the margins of 'formal' work and may go unrecognised by formal systems of employment and regulation.
All of the above call for a deeper understanding of the phenomenon, with the objective of better harnessing the changing nurses' workforce worldwide. Following our review, the core elements of the required research agenda on nurse dual practice appear to be three-fold. First, further research is needed to systematically explore the nature, extent, and impact of nurse dual practice in different systems and countries; this can be achieved through the analysis of employment and professional register/association data sets where these exist, or by ad-hoc surveys of nurses and/ or workplaces. Analysis of specific data sets in some countries (e.g. such as the Current Population Census [57] and the Integrated Public Use Microdata Series the United Sates; Labour Force Surveys; and professional registries) may provide more evidence on prevalence of dual practice and some of its main forms.
Secondly, there is a need for developing a more informed picture of the reasons why nurses take on dual practice, their experiences and preferences of dual practice, and the impact on their broader work/life balance. This can be achieved through a qualitative approach, exploring multiple contexts in high- and low-income settings, and different nursing profiles.
Finally, there is a gap of research that establish the impact of dual practice at the policy level—what is its impact on participation rates, overall nursing hours available in different systems, what are the trends in incidence, what is the impact on nurses, and on the quality of care that is being delivered. Measures could be needed to mitigate the effects of nurses' dual practice to protect the provision of free-of-charge public sector for vulnerable populations. This latter area for policy research is the most complex and challenging to interrogate, but also of potentially great significance. Without a better understanding of nurse dual practice, it will continue to be a largely 'hidden' element in nursing workforce policy and practice, with an unknown level of significance, and an unclear impact on the delivery of care.
Abbreviations
CINHAL:

Cumulative Index to Nursing and Allied Health Literature
EBSCO:

Elton B. Stephens Co.
GDP:

Gross Domestic Product
HRH:

Human Resources for Health
ISI:

Institute of Scientific Information
LMIC:

Low- and middle-income countries
SARS:

Severe acute respiratory syndrome
USA:

United States of America
UHC:

Universal Health Coverage
Declarations
Acknowledgements
N/A.
Funding
No funding was received for this research.
Availability of data and materials
All the data and information included in this review can be found in the annexes.
Authors' contributions
GR elaborated the original idea for the study. GR, IF, and JB designed the study. TSJ designed the methodology for the review. GR drafted the manuscript. All authors revised, read, and approved the final manuscript.
Ethics approval and consent to participate
N/A.
Consent for publication
N/A.
Competing interests
The authors declare that they have no competing interests.
Publisher's Note
Springer Nature remains neutral with regard to jurisdictional claims in published maps and institutional affiliations.
Open AccessThis article is distributed under the terms of the Creative Commons Attribution 4.0 International License (http://creativecommons.org/licenses/by/4.0/), which permits unrestricted use, distribution, and reproduction in any medium, provided you give appropriate credit to the original author(s) and the source, provide a link to the Creative Commons license, and indicate if changes were made. The Creative Commons Public Domain Dedication waiver (http://creativecommons.org/publicdomain/zero/1.0/) applies to the data made available in this article, unless otherwise stated.
Authors' Affiliations
(1)
Centre for Primary Care and Public Health, Queen Mary University of London, London, United Kingdom
(2)
GHTM, Instituto de Higiene e Medicina Tropical, Nova University of Lisbon, Lisbon, Portugal
(3)
School of Health Sciences, Queen Margaret University, Edinburgh, United Kingdom