The interface between health sector reform and human resources in health
Human Resources for Health
2003
1:9
Received: 17 October 2003
Accepted: 03 November 2003
Published: 03 November 2003
Abstract
The relationship between health sector reform and the human resources issues raised in that process has been highlighted in several studies. These studies have focused on how the new processes have modified the ways in which health workers interact with their workplace, but few of them have paid enough attention to the ways in which the workers have influenced the reforms.
The impact of health sector reform has modified critical aspects of the health workforce, including labor conditions, degree of decentralization of management, required skills and the entire system of wages and incentives. Human resources in health, crucial as they are in implementing changes in the delivery system, have had their voice heard in many subtle and open ways – reacting to transformations, supporting, blocking and distorting the proposed ways of action.
This work intends to review the evidence on how the individual or collective actions of human resources are shaping the reforms, by spotlighting the reform process, the workforce reactions and the factors determining successful human resources participation. It attempts to provide a more powerful way of predicting the effects and interactions in which different "technical designs" operate when they interact with the human resources they affect. The article describes the dialectic nature of the relationship between the objectives and strategies of the reforms and the objectives and strategies of those who must implement them.
Keywords
Human ResourceHealth SectorPsychological ContractInternational Labour OrganizationReform Process
Background
The interface between sector reform and human resources in health: a conceptual framework
The potential and actual impact of health sector reform on the health workforce has been highlighted in several studies [1–4]. Less work has been devoted to explore individual and collective reactions to reform attempts by workers. Understanding these reactions and their effects is important in assessing whether reforms can effectively reach their goals, since human resources factors can obstruct technically well-designed reforms and consequently deprive populations of their potential benefits.
Human resources are often considered just another type of input, like financial or physical resources [5], but this might prove wrong or at least too narrow a view. People working in health services are not exclusively "instruments" for delivering necessary health care [3, 6]. They are strategic actors [7], who can act individually or collectively to modify the governments' projects, such as trying to impede budget cuts, which they present as a strategy to protect the quality of services, or blocking a more equal deployment of resources, which becomes an obstacle to achieving a more equitable access to care.
In this paper, we propose a framework to understand the interrelationships connecting health sector reform processes and human resources, focusing successively on:
health care reform, its declared objectives, how it is implemented and its impacts on the health workforce

human resources' reactions to reforms, at the individual and collective levels

the intermediary factors that influence the effects of reform and the responses of the workforce.
The proposed framework is schematically represented in Fig.
1
.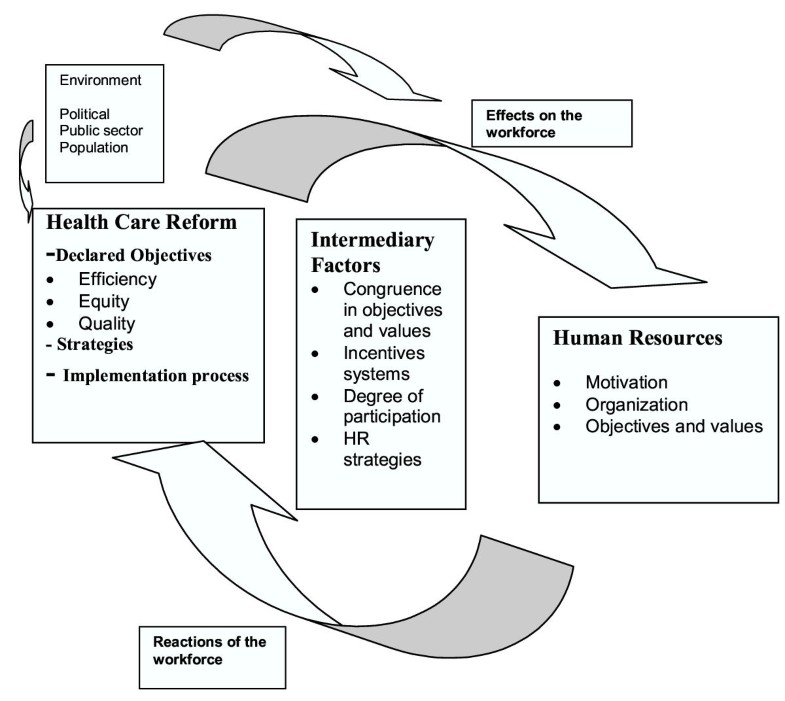 The analysis of the interrelationships between these factors provides a useful tool to predict the effects of different "technical designs" on the human resources they affect. This article intends to show the dialectic nature of the relationship between the objectives and strategies of reforms and the objectives and strategies of those who are expected to implement them. It tries to identify the gaps in knowledge about the determinants of workforce participation, whether in the form of collaboration or opposition to systemic changes.
The policy design implications of understanding these interactions can help to integrate human resources strategies into the health reform process and to construct a better institutional capacity for human resources development.
Additional sources
Main sources of data included electronic journals, online databases and gray literature. The search through bibliographic databases was performed using the following resources:
the Documentation System in Human Resources for Health (SIDORH), from Pan American Health Organization/World Health Organization http://www.americas.health-sector-reform.org/sidorh/
the Virtual Library in Health from BIREME, http://www.bireme.br/
the WHO Library database (WHOLIS) http://dosei.who.int/uhtbin/cgisirsi/Wed+Nov+21+23:21:20+MET+2001/0/49
the Observatory of Human Resources in the Health Sector Reform from Pan American Health Organization/World Health Organization, http://observatorio_rh.tripod.com/Observatory/
the WHO Global Health Workforce Strategy Group (GHWSG) documents, http://www.who.int/hrh/documents/HRH_reports/en/index1.html
the World Bank online database, http://www1.worldbank.org/hnp/hsd/humanresources_index.asp
the Inter American Development Bank online and documentation system database, http://www.iadb.org/res/index.cfm?fuseaction=publications.type
the cyberlibrary of gray literature in health reform from the Health Sector Reform Initiative (USAID-PAHO), http://www.americas.health-sector-reform.org/english/clearinghouse.htm
the electronic Human Resources for Health Development Journal, from Thailand http://www.moph.go.th/ops/hrdj/
the online document database of Partnership for Health Reform http://www.phrproject.com/
the International Labour Organization documentation database, http://www.ilo.org/
Random searches were also performed in other organizations' databases and search engines (OVID http://www.ovid.com/; ScienceDirect http://www.sciencedirect.com/). In some cases these organizations do not provide direct links to non-affiliated users.
The search was conducted using keywords or Boolean expressions where a search engine was embedded in the database. The following keywords and expressions were used: workforce and reform; manpower and reform; labor relations and health; labor conditions and health; labor market and health; motivation and health; incentives and health; industrial action and health; conflict and health; human resources; stress; downsizing; psychological contract.
A title search was performed in online libraries and websites where no search engine is provided.
Declarations
Acknowledgements
The authors are grateful to Maria Cristina Franceschini, Pedro Brito and Cristina Puentes-Markides for reviewing this paper and for making useful editorial comments.
Authors' Affiliations
(1)
Regional Adviser, Human Resources Development Program, Pan American Health Organization/World Health Organization, Washington, USA
(2)
Senior Health Specialist, World Bank Institute, Washington, USA
Copyright
© Rigoli and Dussault; licensee BioMed Central Ltd. 2003
This article is published under license to BioMed Central Ltd. This is an Open Access article: verbatim copying and redistribution of this article are permitted in all media for any purpose, provided this notice is preserved along with the article's original URL.