Research

Open Access

Open Peer Review
This article has Open Peer Review reports available.
Integrated strategies to tackle the inequitable distribution of doctors in Thailand: four decades of experience
Human Resources for Health
2003
1:12
Received: 15 October 2003
Accepted: 25 November 2003
Published: 25 November 2003
Abstract
Inequitable distribution of doctors with high concentration in urban cities negatively affects the public health objective of Health for All. Thus it is one of the main concerns for most health policy makers, particularly in developing countries. This paper aims to summarize strategies to solve inequitable distribution of human resources for health (HRH) between urban and rural areas, by using four decades of experience in Thailand as a case study for analysis.
Keywords
District HospitalBrain DrainRural Health CentreInequitable DistributionGraduate Nurse
Introduction
Maldistribution of human resources for health is a worldwide phenomenon and may appear in different dimensions [1]. The first and greatest concern is inequitable distribution, particularly of professionals such as doctors. The concentration of doctors is usually highest in developed countries and cities, with better living standards, higher income, more social recognition and greater job satisfaction. The second form of maldistribution is in skill mix. Many countries, such as Bangladesh, Brazil, China and Pakistan, have more doctors than nurses. The third is the problem of overspecialization. The fourth is institutional maldistribution. Last, there is gender maldistribution.
Multiple factors influence the inequitable distribution of doctors, ranging from general social and economic inequity, the medical education system, payment incentives, public/private health system development and a social movement for reform (Fig.
1
) [
2
]. A movement towards increasing private sector involvement in health services, fee-for-services payment under a user fee system, poorly managed decentralization, and increasing income maldistribution usually result in a shift of HRH in favor of the big cities, private hospitals and specialized services.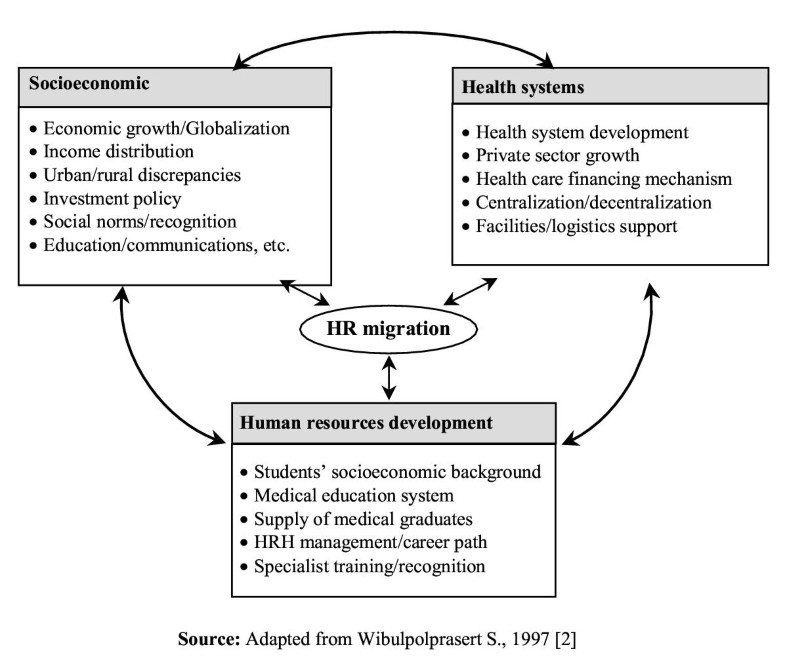 In contrast, investment in public health, cost containment, case or capitation payment systems, improved income distribution and effective decentralization usually favour the distribution of HRH towards the rural population, the urban poor, and to public primary care services, with a resultant increased need for more lower level cadres of HRH [1]. Thus the problem of inequitable distribution of doctors should be considered part of overall social inequity, as well as a problem in health system management.
Overview of the rural public health system in Thailand
Thailand is a lower middle-income developing country with a population of 62.3 million in 2002, 65% of which resides in rural areas. The country is divided into 75 provinces, 774 districts, 81 subdistricts and 6397 communes called Tambons [3].
One main activity of early health system development in Thailand was to establish schools to produce a health workforce. The first medical school was established in 1888; later, nursing colleges and schools of dentistry and pharmacy were established. The graduates of these institutions were placed mainly in the country's capital. Because the government at that time realized the difficulties and high cost of expanding health care services by high-level health professionals, lower-level personnel were also produced to deliver essential maternal and child care, immunization and environmental health services in the rural villages. These were mainly midwives and junior sanitarians, who received one or two years of training after junior high school. They worked in a relatively limited number of rural midwifery centres and health centres [4].
It was not until the early 1950s that every province had a provincial hospital, usually quite small (20–30 beds). During that early development period, medical students were offered scholarships with a contract stipulating that they would work for the Ministry of Public Health (MoPH). After graduation, those who did not receive scholarships stayed mainly in the medical schools, and those who received scholarships were sent to the provincial hospitals and some big rural health centres.
The rural health development policy since 1977 had resulted in a great expansion of rural public health services. There were 728 district hospitals in December 2001, covering more than 95% of the total rural districts. The district hospitals are 10-bed to 120-bed hospitals; most of them have 30 beds. There were 2725 district hospital doctors, 57.95% of the total requirement of 4700. At the provincial level there are 92 hospitals. Twenty-five of them are designated as regional hospitals, with 500 to 1000 beds; the rest are general hospitals, with 150 to 450 beds. There were 5636 doctors in the urban provincial hospitals.
Currently all professionals except graduate nurses are produced mainly by the public universities under the Ministry of University Affairs (MoUA), while paramedics and graduate nurses are produced mainly by the MoPH[
4
,
5
]. The recruitment system for the university-trained professionals is quite different from that for the paramedics and most graduate nurses. For the professionals, general national entrance examinations are the main vehicle of recruitment, while the paramedics and most of the graduate nurses are recruited from each province through provincial examination. In 2002 there were 11 public medical schools and one private medical school, producing 1400 graduates (Fig.
2
).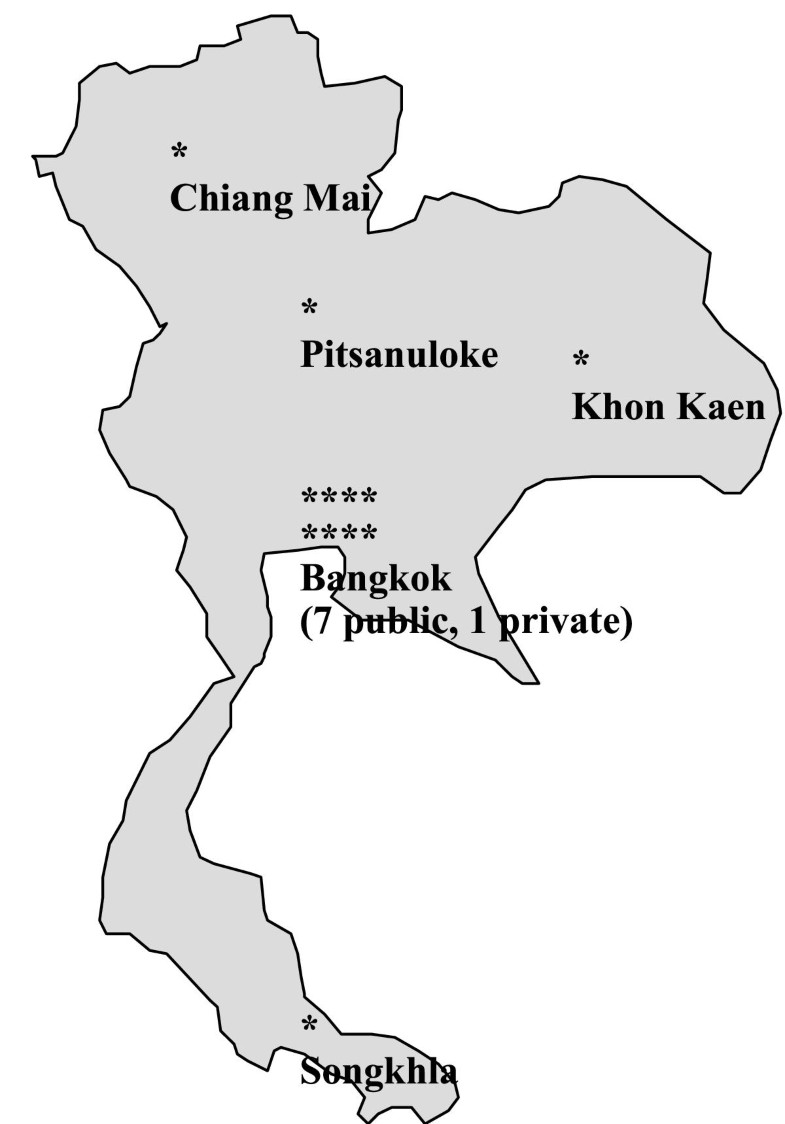 After graduation from public medical school each medical graduate has to work for the public for three years. Public doctors can also practise privately, and many of them do. However, if they do not practise privately, they receive USD250 special allowance per month.
History and trends of inequitable distribution of doctors
For the past four decades, the distribution of doctors to rural Thailand has been divided into four phases:
Strategies used in solving inequitable distribution of doctors in Thailand
Thailand applied several strategies in response to inequitable distribution of doctors. Further strategies were added as reactions to problems at each phase of development. Some of them are continuous and other were ad hoc.
Lessons learned and recommendations
There are many push and pull factors for doctors in the rural areas (Fig.
9
). Thailand implemented several strategies to solve inequitable distribution of doctors. Despite these strategies, inequitable distribution of doctors persists.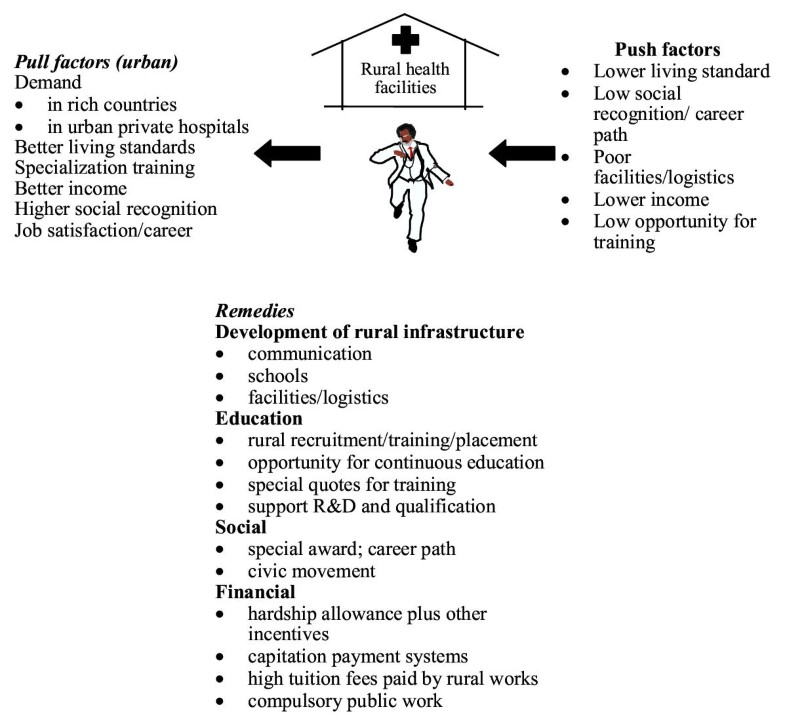 Doctors usually stay for a short period in the rural district hospitals. Around half of district hospital doctors are those within the first three years of a compulsory contract. This proportion has remained the same for the last two decades (Table
5
). In addition, external factors – particularly economic dynamics – strongly affect the distribution.
Table 5
Contracted and non-contracted rural doctors
Year

Total rural doctors

Non-contracted

Contracted

Number

%

Number

%

1982

628

175

27.87

453

72.13

1984

934

377

40.36

552

59.10

1987

1,339

602

44.96

731

54.59

2001

2,389

974

40.77

1,415

59.23

2002

2,651

1,178

44.44

1,473

55.56
In the near future, economic recovery and international trade with promotion of the import of foreign patients may boost demand in urban private hospitals, with the return of internal brain drain. Some evidence of this is being observed in 2000–2002 (Table 2).
Several lessons can be drawn from the Thai experience:
Many strategies have been developed and used to improve inequitable distribution of doctors. They have usually been reactive strategies in response to each crisis. They are fragmented, uncoordinated, sometimes inconsistent and rarely evaluated systematically. Formerly there was a committee, the Coordinating Committee for Medical and Health Issues, to coordinate these strategies. It was very successful in its early days but weakened during the rapid economic growth, and was abolished in 1995 for political reasons.

The strategies used have improved the distribution of doctors to a certain extent, as evident from the increase in the number and proportion of doctors at the district level. But the fragmented, uncoordinated, inconsistent and sometimes irrational application of strategies resulted in a system that cannot attract doctors to stay in the rural areas when there are strong economic incentives in the urban private sector.

The combination of rational strategies in packages with unified, integrated, consistent implementation supported by an efficient monitoring system with established national mechanisms is essential for the success of equitable geographical distribution of doctors.

Finally, more equitable socioeconomic development is the basis for overall sustainable success in social equity. This needs strong political leadership and social support.
The following are recommendations for each strategy for the sustainable equitable distribution of doctors.
Reform of the health care delivery system
Primary medical care should be the main focus of development in both urban and rural areas. Growth of the secondary and tertiary care hospitals in urban areas in both the public and private sectors should be appropriately planned. No more financial support (tax exemptions, etc.) to open new private hospitals in the cities should be allowed. A system of "certificate of needs" may be established. A good and efficient referral system should be established. This reform can be achieved through financial reform of various insurance schemes. The enactment, in October 2002, of a comprehensive health insurance act focused on strengthening primary care as the gatekeeper, as well as a referral system and financial reform based on capitation payment systems, is expected to greatly improve the distribution of human resources [34].
Health centre personnel should be further trained and supported to deliver good primary care to encourage patients not to bypass local health facilities. Instead of retraining nurse practitioners, which proved not to be very successful, on-the-job training in basic medical care provided to the existing district hospital graduate nurses would be more effective and sustainable.
Reform of medical education
Rural recruitment and training in rural district and provincial hospitals should be continuously promoted. Only those who originate from the rural areas should be eligible to enter this system. A system of support to junior high school students in each rural district, probably by the district hospitals and the schools, should be developed to prepare candidates for this system. This would allow a higher proportion of students recruited from poorer families in the rural districts. These students should be trained in the existing rural health infrastructure, including the district hospitals, particularly during their clinical years.
If there is an increase in demand in the future, the increased production should not be based on creating new and centrally placed medical schools, but should depend on a flexible collaboration project between the MoPH and the existing medical schools. Rural district hospitals can be very good training institutions for basic medical doctors with little additional investment. Rural recruitment and rural training must be the compulsory systems for any future additional production.
The current quota for specialist training of 1161 should be tightly controlled to prevent loss of rural doctors into training programmes as well as to reduce overspecialization.
Financial strategies
Financial incentives should be more flexible yet focused. A decentralized financial management system is preferable. There could be many more rates of hardship allowance, as compared to the three fixed rates determined by the central ministry. The rates should also better reflect how long the doctors work in the district.
The fine for early termination of compulsory public services must be adjusted to reflect inflation. Replacement of a compulsory public contract with cost-related tuition fees and payback by rural work should be applied gradually and cautiously and in conjunction with other strategies.
Personnel management
The guidelines for promotion of district doctors (in this case to PC level 9) should be implemented extensively. This would benefit those who work for more than 10 years in the district. Relocation after the three-year compulsory period should be fairly free, particularly to the other rural district hospitals in any province.
Social strategies
Social movement towards acceptance and appreciation of rural district hospitals and health centre personnel should be continued and further strengthened. The Rural Doctors Society and Foundation should receive more social support and understanding from the MoPH to allow them to pursue positive activities to improve motivation of young graduates.
Institutional support for HR policy/management
A national mechanism to coordinate health systems and human resources development at the high policy-making level is essential for the consistency and sustainability of development strategies. In Thailand, this mechanism is proposed in the new National Health Bill, which is expected to be enacted in 2003 [35].
Authors' Affiliations
(1)
Deputy Permanent Secretary, Ministry of Public Health, Thailand
(2)
Office of Permanent Secretary, Ministy of Public Health, Thailand
Copyright
© Wibulpolprasert and Pengpaibon; licensee BioMed Central Ltd. 2003
This article is published under license to BioMed Central Ltd. This is an Open Access article: verbatim copying and redistribution of this article are permitted in all media for any purpose, provided this notice is preserved along with the article's original URL.