Methodology
Open Access
Open Peer Review
This article has Open Peer Review reports available.
Measuring health workers' motivation composition: validation of a scale based on Self-Determination Theory in Burkina Faso
Human Resources for Health
2017
15:33
Received: 20 July 2016
Accepted: 11 May 2017
Published: 22 May 2017
Abstract
Background
Although motivation of health workers in low- and middle-income countries (LMICs) has become a topic of increasing interest by policy makers and researchers in recent years, many aspects are not well understood to date. This is partly due to a lack of appropriate measurement instruments. This article presents evidence on the construct validity of a psychometric scale developed to measure motivation composition, i.e., the extent to which motivation of different origin within and outside of a person contributes to their overall work motivation. It is theoretically grounded in Self-Determination Theory (SDT).
Methods
We conducted a cross-sectional survey of 1142 nurses in 522 government health facilities in 24 districts of Burkina Faso. We assessed the scale's validity in a confirmatory factor analysis framework, investigating whether the scale measures what it was intended to measure (content, structural, and convergent/discriminant validity) and whether it does so equally well across health worker subgroups (measurement invariance).
Results
Our results show that the scale measures a slightly modified version of the SDT continuum of motivation well. Measurements were overall comparable between subgroups, but results indicate that caution is warranted if a comparison of motivation scores between groups is the focus of analysis.
Conclusions
The scale is a valuable addition to the repository of measurement tools for health worker motivation in LMICs. We expect it to prove useful in the quest for a more comprehensive understanding of motivation as well as of the effects and potential side effects of interventions intended to enhance motivation.
Keywords
Health worker motivationMotivation compositionMeasurementValidationSelf-Determination Theory
Abstract French
Contexte
La motivation des agents de santé dans les pays à revenu faible et intermédiaire est devenue un sujet de grand intérêt pour les décideurs et les chercheurs au cours des dernières années. Pourtant, de nombreux aspects de la motivation des agents de santé ne sont pas encore bien compris. Ceci est dû en particulier à l'absence d'outils de mesure appropriés. Cet article présente une preuve de la validité conceptuelle d'une échelle psychométrique développée pour mesurer la composition de la motivation, c'est-à-dire le degré auquel des types de motivation d'origine différente à l'intérieur et à l'extérieur d'une personne contribuent à leur motivation globale au travail. L'échelle est fondée sur la théorie de l'auto-détermination (Self-Determination Theory).
Méthodes
Une enquête transversale a été mise en place auprès de 1 142 infirmières dans 522 formations sanitaires gouvernementales de 24 districts du Burkina Faso. Par analyse factorielle confirmatoire, nous avons examiné si l'échelle mesure ce qu'elle était supposée mesurer (validité structurelle et convergente/discriminante) et si ses propriétés de mesures sont comparables dans différentes sous-groupes d'agents de santé (invariance de la mesure).
Résultats
Les résultats montrent que l'échelle mesure une version légèrement modifiée du continuum de motivation proposée par la théorie de l'auto-détermination. Les propriétés de mesure étaient globalement comparables entre les sous-groupes, mais une certaine prudence est indiquée si une comparaison des moyennes entre les groupes est l'objectif principal de l'analyse.
Conclusion
L'échelle est une un apport important au référentiel des outils de mesure de la motivation des agents de santé dans les pays à revenu faible et modérés. Elle sera utile pour une meilleure compréhension de la motivation des prestataires, ainsi que des effets positifs et potentiellement secondaires des interventions visant à renforcer la motivation.
Background
Recent years have witnessed an increased awareness of the paramount importance of a motivated health workforce for the functioning of health systems, particularly in countries burdened by severe resource limitations [1]. Interventions targeting health worker motivation such as performance-based financing (PBF) have become extremely popular among policy makers in low- and middle-income countries (LMICs) [2, 3]. Despite the attention such interventions are receiving, gaps in understanding remain. In particular, the mechanisms through which interventions bring about motivational changes and potential side effects thereof remain poorly understood [4–8]. For instance, there is an ongoing debate around whether the monetary incentives involved in PBF undermine intrinsic motivation ("crowding out effect") [5].
The limited availability of context-adapted research tools to study motivation is a major factor contributing to this knowledge gap. Research on health worker motivation in LMICs has mostly focused on the overall amount or on determinants and outcomes of motivation, leaving other relevant dimensions discussed in the psychological literature such as motivation composition relatively unexplored [4, 9]. Corresponding quantitative measurement tools (e.g., [10–13]), while without doubt useful to answer many research questions, are not suited to others, including that around the crowding out effect which deals with a shift in motivation composition from intrinsic to extrinsic forms.
Against this background, this article contributes to expanding the methodological repository for health worker motivation research by presenting evidence on the construct validity of a newly developed psychometric scale to measure health worker motivation composition. We define motivation composition as the extent to which motivation of different origin within and outside a person contributes to their overall work motivation. The scale is theoretically grounded in Deci and Ryan's Self-Determination Theory (SDT) [
4
,
14
] and was developed for use in questionnaires or structured interviews. It assesses general motivation towards work rather than task- or situation-specific motivation. The article presents evidence for the scale's validity from a structured survey with nurses in Burkina Faso. Table
1
contains our specific research questions.
Table 1
Aspects of validity investigated and specific research questions
Type of validity

Research questions

Structural validity

RQ1: Is the assumed internal theoretical structure of motivation (i.e., the SDT continuum of motivation; Fig. 1) represented in the data as it was intended during scale development?

a. Do respondents distinguish the five dimensions of motivation?

b. Are adjacent dimensions more closely related than non-adjacent dimensions?

Generalizability

RQ2: Do psychometric properties and interpretations generalize across health worker subgroups (measurement invariance)?

Convergent and discriminant validity

RQ3: To what extent do relationships between the motivation measure and measures of other related constructs correspond to what is theoretically expected and has been found in previous research with other, established measures?
The self-determination continuum of motivation
Self-Determination Theory was introduced in the mid-1980s as a general framework of human motivation [
14
] and has since been extensively studied and further refined [
15
]. As part of the overall theory, SDT proposes the self-determination continuum of motivation (Fig.
1
), a taxonomy of five major dimensions of motivation that are distinguished by the extent to which they stem from contingencies outside the person (controlled motivation) or originate within the person (autonomous motivation) [
16
].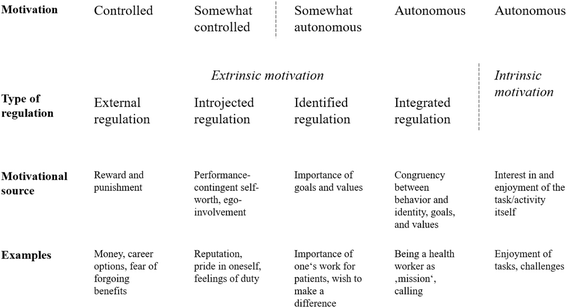 The scale validated in this article measures these five motivation dimensions. Motivation originating fully within the person, such as pure enjoyment of a task, is termed intrinsic motivation in SDT. Extrinsic motivation, in contrast, refers to motivation derived from an instrumental purpose of behavior. External regulation corresponds to what is usually referred to as extrinsic motivation: the wish to attain or avoid some consequence. SDT differentiates three additional dimensions of extrinsic motivation by the degree to which the associated contingencies have become part of the person's self: introjected regulation refers to motivation derived from self-pride, reputation, or feelings of duty, identified regulation to motivation driven by recognition of the importance of one's job, and integrated regulation to full congruency between one's personal goals and values and those of one's job. They differ from external regulation in that they do not need to be maintained from the outside through rewards or punishment. However, they are not fully intrinsic as corresponding behavior is instrumental in catering to a person's set of values and goals rather than performed out of pure interest or enjoyment. A large body of research has linked autonomous forms of motivation to more favorable performance and other outcomes (e.g., wellbeing, organizational commitment) than controlled forms of motivation [9, 15, 17].
The validity and usefulness of the SDT taxonomy has been confirmed in a wide range of work settings, although mostly in North America and Europe [15]. However, the few studies from LMIC (non-healthcare) settings [18] and the (non-SDT-based) literature on health worker motivation in LMICs suggest its validity in LMIC healthcare contexts as well. Specifically, sources of motivation identified by the latter correspond well to the five dimensions differentiated by the SDT taxonomy (e.g., [4, 7, 8, 10–13, 19–25]). For a theoretical application of SDT and the taxonomy to LMIC healthcare settings, see [4].
Results
Structural validity
The structural validity analyses aimed to confirm that the scale does indeed measure the different motivation dimensions of the SDT continuum. We intended to test the "pure" SDT model (Fig.
1
; Model A in Table
3
) against three theoretically viable alternative models. Unfortunately, Model A could not be estimated with the final subset of items as we were only able to retain one integrated regulation item. Table
7
presents fit statistics for the three alternative models. Model C, which combines the integrated and identified dimensions but differentiates external regulation into a social and an economic subcomponent, clearly demonstrated the best fit.
χ
2
was significant as expected given our relatively large sample size, high factor correlations, and non-normally distributed data [
32
,
35
] but of a magnitude that does not warrant concerns for model fit. All other fit indices were good in absolute terms, indicating that the modified five-factor model is well represented in the data. All following results thus pertain to Model C. A graphic representation including standardized coefficients for all estimated parameters as well as modification indices is given in Additional file
2
. For each motivation factor, item-factor loadings are of relatively similar magnitude; the items thus indicate the respective factor with similar strength. Modification indices signal that some items, particularly ext6 and ext7, load on factors other than the intended to some extent. Overall, however, such cross-loadings are low in magnitude, indicating good item discriminatory power. Although also mostly low in magnitude, modification indices show many residual (error term) correlations, particularly for the external regulation (EXT) items. Factor correlations (Table
8
) display the expected simplex pattern, i.e., decreasing magnitude with decreasing conceptual closeness. Cronbach's
α
is relatively low for all factors.
Table 7
Results of the structural validation analyses
Model

χ 2

df

p

RMSEA

p RMSEA ≤.05

CFI

SRMR

AIC

A

Model A, the original five-factor model corresponding to Fig. 1, could not be estimated as only one integrated regulation item was retained in the fitting process (at least two are necessary for model identification)

B

Four-factor model:

IM (im1-im3), IDEN (iden1-iden3),

INTRO (intro1 intro2), EXT (ext1-ext7)

472

84

.000

.064

.000

.867

.069

78 649

C

Five-factor model:

IM (im1-im3), IDEN (iden1-iden3),

INTRO (intro1 intro2), EXT-S (ext1-ext3),

EXT-E (ext4-ext7)

227

80

.000

.040

.996

.950

.033

78 318

D

Two-factor model:

AUT (im1-iden3), CTRL (intro1-ext7)

677

89

.000

.076

.000

.799

.076

78 927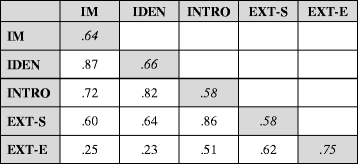 Generalizability
The measurement invariance analyses aimed to confirm that the scale has the same measurement properties in different subsamples and that measurements (scores, variances, etc.) can thus be compared between health worker subgroups. Table
9
shows the results for sex, seniority, and health worker qualification level. The scale is fully invariant for seniority in healthcare. Only partial measurement invariance could be established for sex. Specifically, women scored higher than men on intro1 and ext6, but lower on intro2, at the same underlying levels of introjected and external regulation, respectively (scalar non-invariance). This raises concerns about factor means comparability for the concerned subscales. However, as intro1 and intro2 are biased in opposite directions in around the same magnitude, we can assume biases to cancel each other out. For ext6, considering that it is only one of four items measuring economic external regulation and the systematic difference in scoring is relatively small, we can also assume that the overall bias is of little practical relevance [
33
]. We could also establish only partial scalar invariance for qualification level. Item ext7 had a somewhat higher factor loading (i.e., item is more strongly indicative of factor) in fully qualified than in assistant nurses (metric non-invariance). At the scalar level, fully qualified nurses systematically scored higher on intro1, ext7, and im3 and lower on intro2. In similar lines of reasoning as for sex, we can reasonably assume that these systematic differences do not majorly threaten comparability between groups substantially, however.
Table 9
Measurement invariance testing results
Absolute model fit

Likelihood ratio test info and results

χ 2

df

p

RMSEA

p RMSEA ≤.05

CFI

SRMR

#free parms

LR (with model above)

df

p (.05)

Baseline model C

227

80

.000

.040

.996

.950

.033

–

–

–

–

Sex

Configural invariance

333

160

.000

.044

.994

.943

.041

110

–

–

–

Metric invariance

344

170

.000

.042

.975

.943

.043

100

9.40

10

0.50

Scalar invariance

386

180

.000

.045

.917

.932

.045

90

50.44

10

< 0.01

Scalar invariance, partial

356

178

.000

.042

.983

.941

.044

92

11.19

8

0.19

Residual variance invariance

369

191

.000

.040

.995

.941

.048

79

16.30

13

0.23

Seniority

Configural invariance

332

160

.000

.043

.950

.943

.039

110

–

–

–

Metric invariance

342

170

.000

.042

.979

.943

.042

100

9.23

10

0.51

Scalar invariance

350

180

.000

.041

.993

.944

.043

90

4.29

10

0.93

Residual variance invariance

366

195

.000

.039

.998

.944

.052

75

19.39

15

0.20

Qualification level

Configural invariance

319

160

.000

.042

.980

.947

.039

110

–

–

–

Metric invariance

338

170

.000

.042

.984

.945

.044

100

18.43

10

0.05

Scalar invariance

371

180

.000

.043

.966

.937

.046

90

37.07

10

< 0.01

Scalar invariance, partial

349

177

.000

.041

.989

.943

.045

93

9.26

7

0.25

Residual variance invariance

363

192

.000

.040

.998

.944

.048

78

18.91

15

0.22
Convergent/discriminant validity
The convergent/discriminant validity analyses aimed to provide additional evidence that the scale measures what it was intended to measure by relating motivation to other variables with which the relationship is well established. Table
10
shows correlations of the motivation factors with the three constructs introduced in Table
6
. Correlation patterns are generally in the expected directions, supporting the notion that the scale measures the SDT continuum of motivation well. Organizational support and organizational commitment are more strongly related to introjected regulation than expected based on previous research. Correlations of all motivation factors with intentions to quit are weaker than expected. These findings are likely substantive findings reflecting realities in the specific context rather than being indicative of measurement issues, however [
6
].
Table 10
Convergent/discriminant validation results: model-estimated factor correlations of motivation dimensions with external constructs
| | IM | IDEN | INTRO | EXT-S | EXT-E |
| --- | --- | --- | --- | --- | --- |
| Organizational support | .46 | .43 | .37 | .47 | .12 |
| Organizational commitment | .58 | .54 | .37 | .38 | .05a |
| Intentions to quit | −.15 | −.07a | .06a | .03a | .18 |
Discussion
The paper presents evidence on the validity of a newly developed scale to measure motivation composition of health workers, i.e., the relative contribution of different kinds of motivation to their overall work motivation, from a sample of nurses in Burkina Faso.
Our findings show that the scale measures a somewhat modified version of the SDT continuum of motivation well and relatively consistent in different health worker subgroups. Specifically, our analyses suggest that the scale is not able to distinguish between integrated and identified regulation. This finding is in line with what emerged during the scale development process and with previous attempts to measure the SDT continuum [
18
,
29
]. From an applied perspective, not distinguishing the two dimensions is even advantageous insofar as policy implications are similar and interpretation thus facilitated. Our analyses further suggest to separate external regulation into a social dimension, including aspects of social interaction and recognition, and an economic dimension, pertaining to the economic security one's job provides. Again, such a distinction is sensible from an applied point of view in light of the different policy implications related to the two dimensions. The modified taxonomy measured by the scale is visualized in Fig.
2
.

Methodological discussion
Our results are generally as expected. The structural and convergent/discriminant validity analyses support that the scale measures the SDT taxonomy of motivation, albeit in slightly modified form as explained above. It does so equally well for different health worker subgroups, although with some caveats (see below), indicating that the scale can be used for between-group comparisons.
However, two aspects deserve further discussion. First, despite good overall fit of the data to the five-factor model, we found relatively low levels of Cronbach's α for all factors but EXT-E. While low αs are no longer perceived as indicators of low measurement quality [36–38], they do signal that our items cover different sub-aspects of the respective dimensions rather than being extremely similar. This is no problem per se, but the relative conceptual breadth of the motivation dimensions should be taken into account when interpreting measurements. Should α be even lower in other settings, a re-evaluation of the scale items and the scale's dimensionality might be necessary. Second, factor correlations were relatively large in magnitude compared to other SDT-based measures (e.g., [18]). We believe there to be two main reasons: Respondents' generally scored relatively high despite the various measures in place, the common method and acquiescence bias likely inflating correlations [39]. Additionally, we found cross-loadings and residual correlations for many items, which, although mostly small, likely also contributed to inflated factor correlations. They might have partially been caused by the more specific item phrasing compared to other SDT-based measures [18, 29]. Cross-loadings and residual correlations are often explicitly modeled to improve overall model fit, for instance, in exploratory structural equation models (ESEM) [32, 40]. In light of our already good fit, we opted against doing so based on the assumption that future users of the scale might want to analyze data using composite scores, which would be difficult with a scale "calibrated" in an ESEM framework.
Limitations
Measurement reliability and sensitivity
We were unable to examine measurement reliability (i.e., accuracy and consistency) in-depth within the scope of our study, beyond what was possible in the scale development process. We thus cannot exclude that respondents' scores are to some extent influenced by random or systematic measurement error rather than solely by underlying levels of motivation. The convergent/discriminant validity analysis results, specifically their consistency with previous research, imply that random measurement error is at acceptable levels. Based on the continued high scores on many items, however, we suspect that some social desirability or acquiescence bias might still be at play, systematically inflating scores in relation to their "true values" for certain items. This warrants caution when interpreting absolute scores and calls into question the scale's sensitivity "at the ceiling," i.e., its ability to distinguish respondents or measure change at high motivation levels. Generally, note that systematic biases are less of a concern when investigating relationships of motivation with other variables or changes in motivation over time, assuming that biases stay constant.
Criterion validity
In addition to the convergent/discriminant validity analyses in this study, it would be important to also examine the scale against more tangible criteria such as work performance in the future.
Recommendations for future use
We welcome the use of the scale in future research and are confident that the scale will prove a valid instrument with health workers in other countries and settings as well. The scale will be useful for researchers who want to not only investigate overall levels of work motivation ("motivation intensity") but also study how motivation of different origin and characteristics contribute to these overall levels ("motivation composition") to understand how different "motivation profiles" relate to outcomes of interest [4].
Based on our experiences with the scale so far, we would like to offer the following recommendations to researchers interested in using the tool:
Conclusions
This article presents evidence for the validity of a Self-Determination Theory-based scale to measure health worker motivation composition. Our results show that the scale measures a modified version of the SDT taxonomy well and relatively consistently across health worker subgroups. Results of the convergent/discriminant validation indicate that the five dimensions of motivation relate differently to important work outcomes, underlining the value of investigating motivation composition for the development of a more profound understanding of health worker motivation. We hope that our tool will contribute to meaningful research informing the design of effective and side effect-free interventions to enhance motivation and performance.
Abbreviations
AIC:

Akaike information criterion
AUT:

Autonomous motivation
CFI:

Comparative fit index
CTRL:

Controlled motivation
ESEM:

Exploratory structural equation modeling
EXT:

External regulation
EXT-E:

External regulation-economic subcomponent
EXT-S:

External regulation-social subcomponent
IDEN:

Integrated/identified regulation
IM:

Intrinsic motivation
INTRO:

Introjected regulation
LMIC:

Low- and middle-income country
PBF:

Performance-based financing
RMSEA:

Root mean square error of approximation
RQ:

Research question
SDT:

Self-Determination Theory
SEM:

Structural equation modeling
SRMR:

Standardized root mean square residual
Declarations
Acknowledgements
The authors would like to thank Andreas Neubauer for his support with the analysis and Danielle Wilhelm for her support in drafting this manuscript.
Funding
This study was funded by the World Bank through the Health Results Innovation Trust Fund. JL received funding for her doctoral work from the Konrad-Adenauer-Stiftung. We further acknowledge financial support by Deutsche Forschungsgemeinschaft and Ruprecht-Karls-Universität Heidelberg through the "Open Access Publishing" program.
Availability of data and materials
Data will not be made public at this point as the overall impact evaluation is still ongoing. However, it is World Bank policy to make data generated in the context of its projects public within 2 years of project completion.
Authors' contributions
The study was conceptualized by JL and MDA. JL, AS, JT, and MDA were involved in the scale development process. JL, AS, PJR, and SS contributed to the main data collection. Analyses were performed by JL with support from NH and MDA. JL drafted the manuscript with contribution from all authors. All authors read and approved the final manuscript.
Competing interests
The study was funded by the World Bank through the Health Results Innovation Trust Fund, of which PJR is a staff member. However, the World Bank did not interfere in the study design, analysis, or interpretation in any way. All other authors are not affiliated with the World Bank.
Consent for publication
Not applicable.
Ethics approval and consent to participate
The study was approved by the Ethics Committee of the Faculty of Medicine of Heidelberg University, Germany (protocol number S-272/2013), and by the Ethics Committee of the Ministry of Health in Burkina Faso (protocol number 2013-7-066). Written consent was obtained from all respondents prior to the survey. The database was anonymized to ensure respondents' confidentiality.
Publisher's Note
Springer Nature remains neutral with regard to jurisdictional claims in published maps and institutional affiliations.
Open AccessThis article is distributed under the terms of the Creative Commons Attribution 4.0 International License (http://creativecommons.org/licenses/by/4.0/), which permits unrestricted use, distribution, and reproduction in any medium, provided you give appropriate credit to the original author(s) and the source, provide a link to the Creative Commons license, and indicate if changes were made. The Creative Commons Public Domain Dedication waiver (http://creativecommons.org/publicdomain/zero/1.0/) applies to the data made available in this article, unless otherwise stated.
Authors' Affiliations
(1)
Institute of Public Health, Faculty of Medicine, Heidelberg University, Heidelberg, Germany
(2)
Centre de Recherche en Santé de Nouna, Nouna, Burkina Faso
(3)
Département de Psychologie, Université du Québec à Montréal, Montréal, Canada
(4)
World Bank, Health, Nutrition, Population Global Practice, NW Washington, United States of America
(5)
Département de Recherche Clinique, Centre MURAZ, Bobo-Dioulasso, Burkina Faso