Research

Open Access

Open Peer Review
This article has Open Peer Review reports available.
Can we halt health workforce deterioration in failed states? Insights from Guinea-Bissau on the nature, persistence and evolution of its HRH crisis
Human Resources for Health
2017
15:12
Received: 9 September 2016
Accepted: 31 January 2017
Published: 7 February 2017
Abstract
Background
Guinea-Bissau is one of the world's poorest and least developed countries. Amid poverty, political turmoil and state withdrawal, its health workforce (HW) has been swamped for the last four decades in a deepening crisis of under-resourcing, poor performance and laissez-faire.
Methods
The present study aimed at analysing the human resources for health (HRH) situation in Guinea-Bissau in light of the recent literature on distressed health systems, with the objective of contributing to understanding the ways health workers react to protracted turmoil, the resulting distortions and the counter-measures that might be considered. Through document analysis, focus group discussions, 14 semi-structured and 5 in-depth interviews, we explored patterns as they became visible on the ground.
Results
Since independence, Guinea-Bissau experienced political events that have reflected on the healthcare arena and on the evolution of its health workforce, such as different coup attempts, waves of diaspora and shifting external assistance. The chronic scarcity of funds and a 'stable political instability' have lead to the commercialisation of public health services and to flawed mechanisms for training and deploying health personnel. In absence of any form of governance, health workers have come to own and run the health system. We show that the HRH crisis in Guinea-Bissau can only be understood by looking at its historical evolution and at the wider socio-economic context. There are no quick fixes for the deterioration of HRH in undergoverned states; however, the recognition of the ingrained distortions and an understanding of the forces determining the behaviour of key actors are essential premises for the identification of solutions.
Conclusions
Guinea-Bissau's case study suggests that any policy that does not factor in the limited clout of health authorities over a effectively privatised healthcare arena is doomed from the start. Improving health system governance and quality of training should take precedence over expanding HRH. A bloated and ineffective workforce must be managed through incentives rather than administrative orders, in order to improve skills and productivity against higher remuneration and better working conditions. Donor support might be crucial to trigger positive changes, through realistic and sustained investments.
Keywords
Human resources for health
Health systems under stress
Guinea-Bissau health system
Commoditised health markets
Health care in undergoverned countries
Health workforce crisis
Introduction
Human resources for health (HRH) has long been recognised as a critical component of any health system [1], due to their large financial implications [2] and the way they shape its functioning. In situations of conflict and prolonged governance disarray, health systems get critically distorted, with consequences lasting well into the years after the end of turbulence [3]. The health workforce gets particularly affected by violence, as its numbers in the field decrease, professionals are victims of attacks and migrate, their skills decline, while accelerated and unplanned training may expand the supply of underqualified health personnel [4].
Attempts have been made in the past to conceptualise post-war health recovery and human resources for health [5], with the objective of identifying the support needed to overcome the flaws induced by protracted stress [6]. A review of the HR field [7] concluded that while aspects such as supply, education and recruitment have been investigated in post-conflict situations, others such as deployment and governance have not been adequately covered. Some have explored political economy aspects of human resources for health and of related policies [8–10], as well as the role of human resources for health in the state-building process following an armed conflict [11]. The complex remuneration of health workers, generated by multiple activities in undergoverned contexts, have also attracted the interest of scholars [12, 13].
Where the state is absent, underfinanced or plainly failed, the applicability of widely held concepts is called into question. The conventional view of a national health system covering a clearly demarcated territory managed by recognised health authorities does not apply to many healthcare spaces multiplying in the global South [3, 14]. Thus, standard health policy and planning tools fall short of capturing the complexities of distressed systems, not least because of the paucity of reliable health and systems data in such circumstances [4].
Guinea-Bissau offers itself to scrutiny as one of the poorest and most dysfunctional states in the world. Unlike other equally derelict countries, possibly due to its small size, marginal strategic value and lack of natural resources, Guinea-Bissau and its health system have received little attention from the press, the international community and academia [15]. The present study aimed at analysing the HRH situation in Guinea-Bissau in light of the recent literature on health systems in fragile states, with the objective of identifying the key forces shaping the development of its health workforce, the resulting distortions and the counter-measures to be considered.
Background
Swamped in political instability, underdevelopment and stalled economic growth since its independence [16], Guinea-Bissau exemplifies the state that, far from having 'failed', has never really functioned as expected [17]. During the last 40 years, the country has experienced socialist rule, civil war and prolonged political and military unrest, until becoming a hub for international drug smuggling routes [18]. The latest military coup in connection with the 2012 presidential elections came to shake once again the precarious balance of power; after the 2014 elections, a recognised government is currently in place [19]. In 2014, the country was ranked 176th out of 187 in the UN Human Development Index [20, 21] with the poverty headcount ratio at 69.3% in 2010—up from 64.7% in 2002.
Guinea-Bissau has a small economy, with a gross domestic product (GDP) of just above 1 billion USD (550 USD-PPP per capita). Economic growth averaged 2.5% in the last 5 years, although following the resumption of donor financing after the latest coup d'état and thanks to sustained international prices for cashew nut—the country's key export—the economy expanded by 5.1% in 2015 [22]. Net Overseas Development Assistance accounted for 10.6% of the gross national income and financed 46% of public spending. Dominated by non-tax sources, such as customs duties and fishing licenses, internal revenues represented 14% of the country's wealth. In 2015, the wage bill accounted for 51% of the government budget [23].
Total health spending is estimated at 5.6% of GDP, with just 21% supported by public funds, and out-of-pocket expenditures representing 62% of private contributions [20]. The Ministry of Public Health (MoPH) was allocated 8% of government budget in 2015, with salaries taking up 72% of public health expenditures [23]. It is a shared opinion that Guinea-Bissau's future fiscal position does not bode well for its poverty reduction plans.
Life expectancy in Guinea-Bissau is estimated to be 55.8 for women and 52.8 for men, with under 15-year-olds representing 42% of its population [21]. The country's epidemiological profile is dominated by poverty-related communicable diseases, such as respiratory infections, malaria, AIDS (prevalence of 3.9%) and tuberculosis [24]. Successive multiple indicators surveys have shown a substantial reduction in infant mortality in the last decade, estimated in 2014 to be around 55/1000; 32% of under five children were found to be underweight. Some recent UN estimates put maternal mortality at 900/100 000 [24]. The country's health system structure has changed little in the last 40 years, with a wide base of basic health units supported by community health workers and traditional birth attendants, health centres staffed by civil servants, primary health services organised around outreach programmes, five regional hospitals with some surgery capacity and one central hospital located in the capital city—the Simão Mendes Central Hospital [25, 26]. Overall health coverage was estimated to be 34% in 2010, down from its pre-war level of 40% [27].
Despite recent attempts to revitalise its health system, health indicators are sagging, while its already shaky health workforce is deteriorating further [
28
]. In 2015 almost 27 956 assisted deliveries and 171 135 ante-natal care visits were recorded for a population of 1.5 million (Table
1
below). Just 2221 Caesarean sections were performed, 66% of which in the capital city area; during the same year, just 1.4 new admissions were recorded per surgical bed, 5.1 for obstetric and 2.6 for general medicine ones.
Table 1
Public health system selected in-patient and outpatient activity indicators (2015, 12 months)
Province

Population

Mother and child care

In-patient surgical care

In-patient obstetric care

In-patient general medicine care

Assisted delivery

Caesarean sections

Complications-related transference

Antenatal visits

Admissions

Beds capacity for the specialtya

Admissions

Beds capacity for the specialtya

Admissions

Beds capacity for the specialtya

Bafatá

214 541

3257

228

267

25 217

103

156

2194

286

3941

1034

Bijagos

23 728

452

0

11

3315

1009

96

124

54

669

393

Biombo

99 364

2257

37

209

13 708

225

1

1792

99

2164

401

Bolama

10 900

169

0

4

942

0

26

108

291

487

Cacheu

197 634

3121

138

386

24 116

203

394

1024

569

2286

1055

Farim

51 545

847

4

139

7329

13

781

80

604

253

Gabú

219 586

3681

135

249

28 212

168

188

2322

277

906

135

Oio

178 348

2350

147

392

19 400

11

157

288

213

1206

862

Quinara

64 909

896

0

75

6554

45

61

712

345

2253

777

Greater Bissau (SAB)

389 918

9345

1467

451

29 707

1338

1130

9535

1582

10 177

3493

Tombali

97 282

1581

65

114

12 635

67

85

1190

296

1614

1059

Total

1 547 754

27 956

2221

2297

171 135

3182

2268

19 988

3909

26 111

9949
The methodology used
We started from the assumption that, because of its key exogenous and endogenous shaping factors, a health workforce acquires specific features—the distortions—which are essentially similar to what is observable in other distressed contexts, even if the mix and intensity of each are distinctive of the country under analysis (Fig.
1
). Crucially, the boundaries between formal and informal workers active in such health workforce are often blurred, and it is hard to acquire a firm idea of its true size [
29
].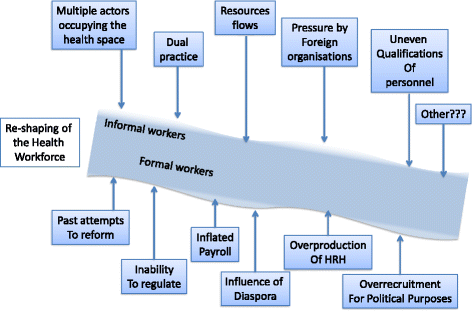 Through document analysis, focus group, semi-structured and in-depth interviews, we aimed at assessing the presence and combination in the Guinea-Bissau case study of the aspects observed in other troubled settings, such as (a) the empty void vs. crowded space characterisation [14], (b) the commercialisation of health services [30], (c) the influence of different forms of multiple employment [31], (d) resource flows into the system [10], (e) inconsistent engagements of foreign organisations in the health arena [32], (f) poor quality of training, (g) diverse qualifications of health personnel [33], (h) over-recruitment for political purposes, (i) imbalanced distribution of personnel, (l) failed past attempts to reform the sector [9], (m) inflated payrolls and (n) the influence of the diaspora on the labour market.
Data collection and data analysis
Published and unpublished documents in Portuguese and English from the 1970s and 1980s were first reviewed on (a) the historical and political crisis in Guinea-Bissau, (b) the Guinea-Bissau health system and its evolution, (c) health policy documents and (c) health systems under stress. PubMed, Scopus, Googlescholar and EconLit databases were searched for terms such as 'Human Resources for Health AND Crisis', 'Guinea Bissau AND Health', 'Conflict AND Human Resources', 'Portuguese-speaking African countries AND Human Resources for Health', 'Diaspora AND Human Resources for Health', 'Health systems AND Post-war Reconstruction'. The World Bank and WHO health databases and UNICEF MICS across several years were used as data sources.
Data on the characteristics and deployment of the current health workforce of Guinea-Bissau and on training outputs were obtained from the MoPH's National Directorate for Human Resources (DNRH) and from the National School of Health (ENS). An original Excel database was built containing information on sex, age, category, current deployment and remuneration for each individual health worker currently employed in the health sector.
An inception focus group [34] was conducted with five health officials purposively selected by and among the country's current ENS training institution in Bissau to brainstorm ideas on the evolution of the health workforce since independence, on the key distortions and shaping factors, and on potential informants for the interviews. Fourteen semi-structured [35] and 5 work and career history in-depth interviews [36, 37] were conducted in Lisbon, Bissau and Bolama districts by two researchers. Key informants were selected among policy-makers, government officials, health workers and international health organisations personnel and identified through a snowball technique. Interviews were stopped when saturation point was reached for the key themes.
The semi-structured interviews touched on (1) the interviewee's appraisal of the current HRH situation in Guinea-Bissau, (2) his/her opinion/knowledge on its evolution, (3) identification of key turning points that modified the HRH along the last decades, (4) personal perceptions of key problems and (5) probing the key distortions identified from the literature (see the Interview Guide in Appendix 1). Work history interviews explored health workers' experience of entering the health system, his/her recruitment, training, deployment, current and past work routines and sources of revenues (see Work History Guide in Appendix 2).
Interviews were conducted in Portuguese between February and March 2016. Semi-structured interview lasted for between 45 and 90 min. In-depth life story interviews lasted for over 2 h. They were all audio-recorded and analysed for contents, according to the shaping factors and distortion categories identified in the literature; then, they were traced and triangulated across interview groups; finally, a narrative of events was constructed for the evolution of the crisis, stakeholder influences, dominant distortions and their combination. Individual informants were asked to confirm specific narratives during the paper's writing-up to ensure internal validity.
Discussion
This study of Guinea-Bissau's health workforce not only confirmed many of the attributes found elsewhere in undergoverned countries but also presented original features worth highlighting. Privatisation from within, commoditisation of health care, privately-sustained production of health workers, are some of the recognisable characteristics Guinea-Bissau shares with other countries displaying underfunded health systems in severe disarray [29]. Such developments occurred against an official backdrop of public health provision, with health professionals eager to enter the civil service, and health authorities keen to offer jobs and other related perks. However, the persistent scarcity of domestic funding and fluctuating external assistance have exposed such patterns in clear contours in Guinea-Bissau, setting it aside from other countries such as Angola, where oil revenues have allowed an unchecked expansion of the civil service, and Mozambique, whose health sector has been propelled by generous aid flows [33].
Political instability appears to be a key shaping force of Guinea-Bissau's domestic environment, whether this term is used to describe the government's inability to exert power, its fragility or the continuous disruption of resource flows. Rather than the exception, political instability has come to represent the norm for Guinea-Bissau: future attempts to revitalise the health sector will have to factor in this permanent turmoil, as the country has not really known any other form of operating since independence.
An extreme case of ungoverned health workforce is possibly what we witnessed in Guinea-Bissau. Left to their own devices, abandoned by their official employer, with little or no supervision, health workers have gradually become the real owners and operators of health services, run to their advantage and regardless of their worth to the users. Arguably, the Bamako Initiative has been appropriated as a convenient fig leaf behind which the commoditisation of healthcare provision has progressed, rather than providing a lifeline for cash-strapped health systems, as reportedly happened in other West-African countries [52, 53].
That health workers come to own an undergoverned health system has been recognised also elsewhere [54], although such crucial aspect is being inadequately considered in the policy and planning discourse. In Guinea-Bissau's case, civil service jobs represent one of the few opportunities in the country's tight formal labour market, which explains the willingness of prospective candidates to pay hefty fees for low-quality professional training. Health workers accept low and irregular salaries because these are probably the closest thing to a steady source of revenue. A public appointment is made more attractive by the freedom they enjoy to embark on an array of other profit-generating activities connected with their position.
As witnessed in other distressed contexts, such as the DR Congo [5], the health training system has grown spontaneously, fuelled by its own earning imperatives and market demand. As suggested for the DR Congo case, technical measures are unlikely to address the discussed shortcomings, nor will the health officials presiding over (and benefitting from) them, be the committed enforcers of risky and controversial structural reforms [13].
Counter-intuitively, Guinea-Bissau's health workforce looks oversized - particularly once locally-contracted staff are considered—vis-à-vis its health service outputs and meagre domestic resources, present and forecast. The inevitable attraction of richer urban areas, rather than the absolute lack of health professionals, is the likely cause of HRH shortages in the poorer parts of the country. And such earning perspective motivates young people to acquire a healthcare qualification. The quality of the services provided by Guinea-Bissau's health professionals is inadequately studied, but it is likely to be substandard. The PNDRH provided an argument for the expansion, rather than for the regulation of the workforce [55]; but expanding a derelict health workforce without addressing its current faults is likely to make them more severe and irremediable.
Can anything be done to stop the deterioration of the health workforce in undergoverned countries like Guinea-Bissau? The scarcity of reliable information is striking, and the fluidity of the situation compounds matters, curtailing the shelf life of the available data; the MoPH (and the state administration at large) lacks the analytical, financing, legal and managements levers needed to intervene successfully in a field that has evolved spontaneously and now responds to market signals more than to administrative instructions. To offset such shortcomings, external assistance should be strategic and sustained overtime, which is seldom the case for fragile states [32].
What realistic steps should be taken to develop the health workforce in Guinea-Bissau, or at least to contain its deterioration? The recognition of the current picture is sorely needed—by national and international policy-makers alike; the image of a well-meaning, understaffed and underfunded public health system struggling to bring health services to the population needs debunking. Amid Guinea-Bissau's power vacuum and lack of employment opportunities, health workers have come to own the public health system and provide erratic, low-quality and payment-only services to make a living. In Guinea-Bissau's case, this is the 'elephant in the room' of its public provision of health care, and it is consistent to what observed elsewhere in similar circumstances [56, 57]; any assessment that does not confront such obvious although uncomfortable fact would generate misconceived reform attempts.
A rational approach to identify solutions in undergoverned states should start with the macroassessment over time of the resource envelope, which would usher in a discussion among stakeholders about what sort of health system could be envisioned [58], and in turn what kind of health workforce is needed. Present and future funding levels are likely to be meagre, which weighs against the maintenance of a conventional, large public health service delivery structure. Investing available public resources in stewardship and regulation, while leaving service delivery to private providers, is conceptually appealing, but fraught with difficulties, as demonstrated by state administrations much stronger than the one under scrutiny.
Using carrots where no sticks are available. Subsidies might motivate key actors to change behaviour; unenforceable regulatory provisions will not, and may make matters worse. But effective incentives need an intimate knowledge of the market and prompt reactions to changing conditions. External financial assistance, already the source of the largest share of public resources, can in principle steer the healthcare arena in desirable directions, once the extent of privatisation and commoditisation is recognised and provided its inputs are used coherently in a long-term, firmly contextualised and strategic way. Aid could be used to motivate training institutions to raise quality standards against a reduction of enrolment numbers.
Affordability and workloads rather than international ratios (obviously beyond reach for a country as poor as Guinea-Bissau) should indicate the number of health workers to be trained. Hardship and productivity rewards would offset the progressive numerical slimming of the workforce. But better skills could not translate into better practice if the interplay of incentives remains negative, that is, if healthcare practice is conditioned by earning pressures. In principle, fewer pairs of competent hands could be paid better. Competitive salary levels could be introduced after severing health workers from the civil service. Turning healthcare structures into autonomous bodies would facilitate such a process.
Meanwhile, the registration of active health workers should be promoted, through tests awarding qualifications perceived as advantageous in the labour market, for instance by being preferred for recruitment by NGOs and charities. The resulting information would then be used for designing in-service and upgrading training programmes aimed at raising professional standards. Any HRH development plan should recognise the internationalisation of the health labour market and in turn the limits of domestic decision-making.
Conclusions
Guinea-Bissau offers a telling example of how a national health workforce can deteriorate under protracted stress. Analysing health systems in undergoverned states is particularly testing, given the informalisation of key aspects of healthcare provision and the subsequent unreliability of official data. The present study aimed at analysing the HRH situation in Guinea-Bissau in light of the recent literature on distressed health systems, with the objective of contributing to identifying the forces at play, the resulting distortions and the counter-measures that might be considered. Through document analysis, focus group, semi-structured and in-depth interviews, we aimed at assessing how HRH react to protracted under-resourcing and mismanagement in the Guinea-Bissau settings.
Since independence, political turbulence has impacted on the evolution of the national health workforce, from the waves of diaspora following armed conflict and coup attempts, to subsequent mutually inconsistent rehabilitation programmes sponsored by aid agencies and their inevitable repercussions on the health market (Fig. 2). Chronic scarcity of funds and a 'stable political instability' emerged as two key forces shaping human resources for health in Guinea-Bissau for the last four decades. The commercialisation of public health services and flawed training and deploying mechanisms naturally ensued.
Solutions will always be hard to come by in situations similar to Guinea-Bissau's; however, the hard-nosed recognition of its ingrained, if embarrassing distortions, coupled with an understanding of the incentives at play, will be essential starting points. Analysing in some detail the functioning of this de-regulated market will offer indications to set up incentives enticing health workers to perform better. Supervision and in-service training will identify the most serious skill gaps to be addressed in order to deliver better care. Stronger and timely information will enable quick adjustments. Investments in local management capacity might be needed to offset the paralysis of central health authorities (and of the central state administration), which might be beyond repair.
Abbreviations
CHW:

Community health worker
ENS:

National Health School
GDP:

Gross domestic product
HRH:

Human resources for health
HW:

Health workforce
MoH:

Ministry of Health
MoPH:

Ministry of Public Health
NGI:

Non-governmental institution
NGO:

Non-governmental organisation
PI:

Political instability
PNDRH:

National Human Resources Development Plan
PNDS:

National Health Sector Development Plan
SAB:

Bissau City Autonomous Area
USD-PPP:

Purchasing Power Parity American Dollars
Declarations
Acknowledgements
The authors would like to thank all the people in Bissau, Bolama and Lisbon who made their time available to be interviewed and piece together the story of Guinea Bissau's health workforce. GR is indebted to Alvaro Alonso Garbayo for comments and suggestions to the study methodology. The paper benefitted from friendly comments and revisions by Mark Beesley and Markus Michael. The research was funded by an unrestricted grant by The Calouste Gulbenkian Foundation of Portugal.
Funding
The study is based on the findings from a study supported by an unrestricted research grand by The Calouste Gulbenkian Foundation, Portugal.
Availability of data and materials
The data that support the findings of this study are available from the Instituto de Higiene e Medicina Tropical (Nova University of Lisbon), but restrictions apply to the availability of these data, which were used under license for the current study, and so are not publicly available. Data are however available from the authors upon reasonable request and with permission of Instituto de Higiene and Medicina Tropical's Ethics Committee.
Authors' contributions
GR contributed to the conception of the paper, conducted the data collection and drafted the manuscript. EP contributed to the conception of the paper and helped drafting the manuscript. CG supported the data collection and helped drafting the paper. CN provided information and data for the analysis and helped revise the manuscript. All authors read and approved the final manuscript.
Competing interests
The authors declare that they have no competing interests.
Consent for publication
N/A.
Ethics approval and consent to participate
The study received the ethical approval from Instituto de Higiene e Medicina Tropical Ethics Committee. All the people consulted were informed on the study objectives and on their right to withdraw from the interview.
Open AccessThis article is distributed under the terms of the Creative Commons Attribution 4.0 International License (http://creativecommons.org/licenses/by/4.0/), which permits unrestricted use, distribution, and reproduction in any medium, provided you give appropriate credit to the original author(s) and the source, provide a link to the Creative Commons license, and indicate if changes were made. The Creative Commons Public Domain Dedication waiver (http://creativecommons.org/publicdomain/zero/1.0/) applies to the data made available in this article, unless otherwise stated.
Authors' Affiliations
(1)
International Health and Biostatistics Unit, Instituto de Higiene e Medicina Tropical, Universidade Nova de Lisboa, Lisbon, Portugal
(2)
Centre for Primary Care and Public Health, Queen Mary University of London, London, United Kingdom
(3)
University of Queensland, Brisbane, Australia
(4)
National Health Inspectorate, Ministry of Public Health, Bissau, Guinea-Bissau