Research

Open Access

Open Peer Review
This article has Open Peer Review reports available.
Exploring the influence of trust relationships on motivation in the health sector: a systematic review
Human Resources for Health
2015
13:16
Received: 6 August 2014
Accepted: 9 March 2015
Published: 31 March 2015
Abstract
Background
Dedicated and motivated health workers (HWs) play a major role in delivering efficient and effective health services that improve patients' experience of health care. Growing interest in HW motivation has led to a global focus on pay for performance strategies, but less attention has been paid to nurturing intrinsic motivation. Workplace trust relationships involve fair treatment and respectful interactions between individuals. Such relationships enable cooperation among HWs and their colleagues, supervisors, managers and patients and may act as a source of intrinsic motivation. This paper presents findings from a qualitative systematic review of empirical studies providing evidence on HW motivation, to consider what these studies suggest about the possible influence of workplace trust relationships over motivation.
Methods
Five electronic databases were searched for articles reporting research findings about HW motivation for various cadres published in the 10-year period 2003 to 2013 and with available full free text in the English language. Data extraction involved consideration of the links between trust relationships and motivation, by identifying how studies directly or indirectly mention and discuss relevant factors.
Results
Twenty-three articles from low- and middle-income countries and eight from high-income countries that met predetermined quality and inclusion criteria were appraised and subjected to thematic synthesis. Workplace trust relationships with colleagues, supervisors and managers, employing organisation and patients directly and indirectly influence HW motivation. Motivational factors identified as linked to trust include respect; recognition, appreciation and rewards; supervision; teamwork; management support; autonomy; communication, feedback and openness; and staff shortages and resource inadequacy.
Conclusion
To the authors' knowledge, this is the first systematic review on trust and motivation in the health sector. Evidence indicates that workplace trust relationships encourage social interactions and cooperation among HWs, have impact on the intrinsic motivation of HWs and have consequences for retention, performance and quality of care. Human resource management and organisational practices are critical in sustaining workplace trust and HW motivation. Research and assessment of the levels of motivation and factors that encourage workplace trust relationships should include how trust and motivation interact and operate for retention, performance and quality of care.
Keywords
MotivationWorkplace trustTrust relationshipsHealth workers
Background
Health workers (both clinical and non-clinical) form the backbone of any health system. Their motivation and behaviour can significantly influence health system performance [1]. Of concern, therefore, are the reported low levels of health worker (HW) motivation in low- and middle-income countries (LMICs) [2,3]. Low motivational levels have been associated with poor HW practices [4], as well as failure to retain staff [5] and migration of HWs [6-8].
Motivation can be understood as the desire of individuals to act or behave in certain ways. In organisational settings, it can be defined as a behavioural, affective and cognitive process that influences the willingness of workers to perform their duties in order to achieve personal and organisational goals, influencing the extent and level of their effectiveness at work [9,10]. A broad range of theories and frameworks have been developed and used to understand and research this complex phenomenon [10-15]. Yet, for the LMIC health sector, there is still a relatively limited, if growing, body of empirical work about motivation, its determinants and how they interact with other important workplace phenomena across different settings [10,16].
The existing research indicates that HW motivation is influenced by a range of factors. On the one hand, extrinsic motivation—generated when an action or task is performed to receive external rewards or outcomes—is influenced by factors such as remuneration, incentives, rewards, competition, promotion and recognition from superiors [4,14]. On the other hand, factors that influence intrinsic motivation—generated when actions or tasks are performed for internal fulfilment or enjoyment of the activity itself—include autonomy, competency, social interactions, responsibility, cooperation, self-esteem and a feeling of belonging [14,17].
Policy attention worldwide has tended to target the extrinsic motivation of HWs. In LMICs, strategies such as pay-for-performance or establishing conducive work environments have been promoted [18-22], and in higher income settings, new public management strategies such as performance management, audit and marketization are favoured [23-25]. However, interventions focused on extrinsic motivation alone have been argued to lead to a low trust culture that undermines intrinsic motivation [14,18,24], and intrinsic motivation is important because it is specifically linked to positive health worker behaviours, enjoyment of the work itself, the quality of work performed and retention of health workers in current jobs [4,14,17].
Therefore, identifying and understanding the intrinsic factors that influence motivation is important for activities aimed at strengthening motivational levels, leading to positive HW behaviour and performance [
4
]. However, there are few explicit investigations of intrinsic motivation and HW behaviour in the available literature. Possible determinants of intrinsic motivation include social interactions, self-efficacy, competence, autonomy and workers' sets of values. The organisational literature, in particular, also suggests that trust relationships may have an important influence on intrinsic motivation [
26
]. Building on this idea, Gilson et al. [
16
] present a conceptual framework outlining how workplace trust relationships may play out in health care settings (Figure
1
).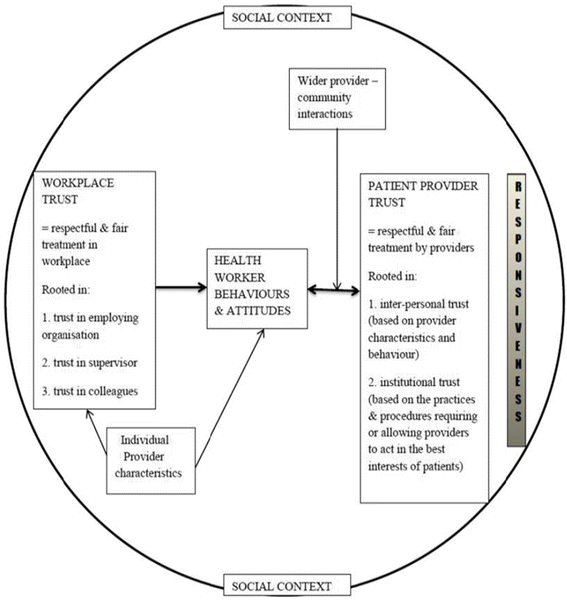 In broad terms, trust is a relational notion or psychological state that influences individuals' willingness to act on the basis of the words, motives, intentions, actions and decisions of others under conditions of uncertainty, risk or vulnerability [27-30]. Figure 1 suggests that workplace trust in health care settings is a phenomenon that involves fair treatment and respectful interactions between individuals, and as entailing the provider's trust in colleagues (linked to teamwork and shared experiences), trust in supervisors (related to personal behaviours and which do have an impact on trust in the organisation) and trust in the employing organisation (influenced by leadership and human resource management (HRM) practices). Such trust relationships enable cooperation among HWs and their colleagues, supervisors, managers and patients and may act as a source of intrinsic motivation. The factors that allow for the development of workplace trust also allow patients to presume that HWs are adequately competent and will adopt the positive attitudes that enable their health care needs and expectations to be met [27-29,31]. Similarly, positive engagements with patients themselves also motivate HWs, leading to the interaction between workplace trust and provider–patient trust [16]. This framework is useful in analysis and identification of interpersonal and organisational elements of the dimensions of trust relationships, including provider–patient trust.
Broader organisational literature suggests that possible influences over these four sets of relationships include communication standards, feedback mechanisms, competence, performance appraisal and reward systems, job security and organisational support and procedures—including decision-making practices [32]. These determinants affect the nature of interpersonal trust relationships and may present values that shape workers' attitudes and behaviours, thus having an influence on their motivation [27,29,32,33].
Against this background, this review seeks to answer the question: Do workplace trust relationships influence the motivation of HWs, and if so, how? Considering available literature on the determinants of HW motivation, the review examines whether workplace trust is identified as an influencing factor in such studies, and if and how the four trust relationships of Figure 1 are found to influence motivation.
Methods
Intended primarily to map the available evidence base, the review process followed standard qualitative systematic review steps [34-37]. Formal ethical considerations or confidentiality procedures were not needed for this review because the authors accessed and utilised only publicly available and published data.
Search strategy
Five electronic databases considered as sources of relevant literature on HW motivation were searched. These are PubMed/MEDLINE, Cumulative Index of Nursing and Allied Health Literature (CINAHL), PsycINFO, Africa-Wide Information and Scopus. CINAHL, PsycINFO and Africa-Wide Information were searched independently via EBSCOhost. The keywords and MeSH terms for the review included 'Motivation', 'Job Satisfaction', 'Attitude of Health Personnel', 'Retention', 'Trust', 'Workplace trust', 'Relationships', 'Interpersonal relations', 'Health Personnel', 'Health Sector' and 'Health Worker'. These terms, in addition to other words, were applied appropriately to each database as outlined in the search algorithm in Additional file 1. The identified studies were then transferred to a reference manager, RefWorks (Copyright© 2009), to save and facilitate scanning of the titles and abstracts for the inclusion and exclusion criteria.
Article selection
For inclusion, the article had to report findings of empirical research on the determinants of motivation of any cadre of clinical and non-clinical health workers. The electronic search and selection included evidence from LMICs and high-income countries (HICs). All relevant empirical studies that utilised qualitative, quantitative and mixed methods approaches were considered for this review. Original and review journal articles with available free abstract and full text were identified from the databases.
The inclusion criteria also limited studies to the period from 2003 to 2013, a period deemed appropriate to encompass the most recent relevant literature, and to papers published in English. The exclusion criteria were 1) studies not related to HW motivation and/or motivation in the health sector; 2) studies published prior to the year 2003; 3) studies published in languages other than English; 4) articles or citations without abstract; and 5) studies that did not provide information on HW motivation in the full text. To identify relevant studies for review, the titles and abstracts were screened against the inclusion and exclusion criteria after removing duplicates from the combined search output, followed by full-text reading of identified studies. The search PRISMA or flow chart is presented in Figure
2
.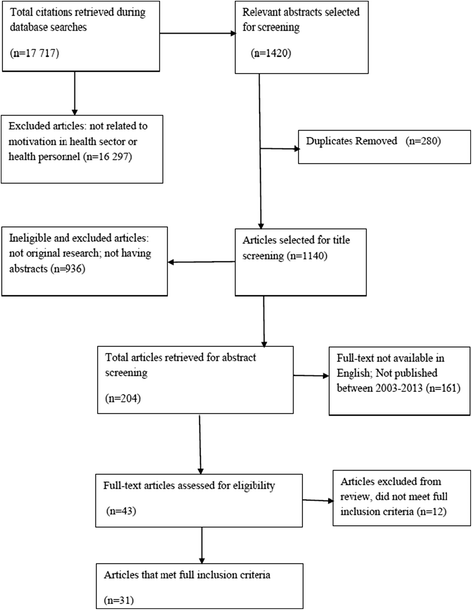 Quality review and data extraction and analysis
Reviewers acknowledge difficulty in appraisal of qualitative studies and have suggested criteria with specified guidelines for judging suitability of studies for inclusion in qualitative systematic reviews [35,38,39]. The Critical Appraisal Skills Programme (CASP) criteria for assessing study rigour, research methods, credibility and relevance were used to judge the quality of the papers selected for this review [40]. Twelve papers out of the 43 initially selected for review were deemed to be of poor quality against the CASP criteria and were excluded from further review.
The data extraction form (Additional file 2) structured in line with the motivation framework of Franco and her colleagues was used as a data registry and as a guide for identification of the determinants of motivation [10]. The workplace trust framework by Gilson and colleagues was then employed to identify and categorise those determinants linked to workplace trust [16]. This combination allowed for a fairly open data extraction approach, followed by a more focussed description and analysis. The extraction involved line-by-line coding during detailed reading of the findings and discussion sections of each selected paper, to identify factors that determine motivation and issues about how trust relationships influence motivation.
The authors used thematic analysis [36,38,41,42] to identify, map and categorise the data from the selected articles. Line-by-line reading of the papers allowed identification of specific experiences directly or indirectly important in motivation. Consideration was also given to whether study findings directly or indirectly mentioned and discussed factors or experiences that are relevant to trust relationships—for example, management support, job security, job stability, supervision, involvement in decision making, promotion, communication, feedback mechanisms, trust, rewards, respect, recognition, appreciation, transparency, confidence, fairness and other organisational processes and resources [32]. These experiences and words formed the basic codes that allowed extraction of data. The identified experiences were initially categorised by the different sets of possible workplace relationships and then grouped by whether they were identified as positive or negative influences over motivation, as well as by common themes of influence.
The first author was responsible for article searches, identification, synthesis, analysis and the write-up of this article. In supervising the whole review process, the second author specifically supported search strategy formulation, article selection, analysis of the articles and revision of the final draft of this paper.
Discussion
To the authors' knowledge, this is the first systematic review to gather and analyse evidence on workplace trust relationships and health worker motivation. The conceptual frameworks used in data extraction, categorisation and description of the identified workplace trust relationships allowed for both an open and in-depth approach to this review. Judgements about the suitability of the selected studies may be subject to selection bias, but these judgements were cross-checked between the two authors and the use of the CASP appraisal tool, providing clear guideline on appraisal of selected studies, also limited such bias. The inclusion only of publications available in English may have left out relevant studies published in other languages. Future reviews should consider studies published in other languages to provide relevant evidence from other settings.
This review revealed that workplace trust relationships influence the intrinsic motivation of HWs. Workplace trust had both positive and negative influences over motivation and were reflected in other motivational determinants like recognition, appreciation and rewards; supervision; teamwork; management and welfare support; communication, feedback and openness; and staff shortages, heavy workload and resource unavailability. The review also revealed that interpersonal and organisational factors influence the development of workplace trust relationships. It illuminated the complex nature of these relationships and the manner in which they influence motivation, confirming that motivation is not just a function of a single determinant but rather an output of interactions among various factors [51].
Importantly, no hierarchy was identified among the relationships in terms of the degree of their influence on HW motivation. Instead, these trust relationships appear to interact to influence HW motivation. For example, drug and staff shortages cause tension between HWs and patients leading to distrust of the employing organisation and demotivation [61,71]. Therefore, strategies to enhance the intrinsic motivation of HWs should encompass factors relating to all four of the identified workplace trust relationships.
Some of the articles reviewed provide evidence to suggest that workplace trust also has consequences for intention to leave and quality of care. Intrinsic values and trust relationships between colleagues were reiterated as important predictors of intention to leave [47,48,52,57]. Although there were no clarifications on how trust relates to intention to leave, it is plausible based on other empirical evidence on retention and migration of HWs [7,8].
The review also revealed that positive HW performance and motivation to provide good quality care can be improved by workplace trust relationships that are supportive and respectful [48,50,53,57]. However, poor interpersonal workplace relationships and distrust have the opposite effect on quality of care and performance [58,71]. For example, one study explicitly reported lack of respect between cadres as a cause of distrust, demotivation and the provision of poorer care [58]. Moreover, shortages of drugs and work resources led to low motivation, distrust in the health systems and poor performance by the HWs [71].
There are implications of this review for managerial action. To improve HW performance and quality of care, motivating workplace trust relationships between colleagues can be strengthened through good relationships between cadres, collegial recognition, supportive teamwork, respect and good communication in the workplace [47,51,52,58]. Supervisors and managers also have a major role to play in building workplace trust relationships that promote intrinsic motivation. HWs particularly commended supervisory practices such as supervisor support, recognition and appreciation, fairness in performance, communication and feedback [45,50-53,59,62,66]. These point to the value that sound HRM practices have in establishing and enhancing workplace trust relationships to motivate workers [4].
The employing organisation's influence over HW motivation cannot be underestimated [27,31]. Its support by provision of work resources—such as drugs, equipment, job safety and security, good working environment and structures, clear job description, and in-service training—allows for the development of trusting behaviour that is critical for performance [50,59]. Research has also demonstrated the relevance of workplace trust to patient experiences [16]. This review supports this relevance by identifying some of the factors of trust that motivate workers to willingly perform their duties and strengthen the bidirectional provider–patient trust relationship. These factors include greater responsibility, respect and appreciation from patients [45,48,50].
Articles reviewed from HICs tended to report positive experiences [43-45,47,52,53] while, in contrast, both positive and negative experiences were identified in LMICs. For LMICs, these findings seem to reflect the wider health sector challenges of resource constraints, inadequate management practices and skills inadequacy [2,4,5,73]. Low remuneration and resource inadequacy were, thus, important influences over workplace distrust and HW demotivation in LMICs along with lack of teamwork, disrespect, lack of support and poor relationships with colleagues, supervisors, managers and patients. Nonetheless, the review also noted that the positive implications of good workplace trust relationships, founded on similar factors, for performance and quality of care are observable in both HICs [44] and LMICs [61].
Theoretical arguments identify trust relationships as critical in the generation and delivery of health care services that establish a wider social value [27,29]. However, low levels of motivation which manifest in ineffective health care delivery can only compound existing health system challenges and weaknesses [4,7,8]. Trust relationships in the health sector, therefore, may act as intrinsic motivators, but lack of trust may lead to disinterest in work itself, which ultimately affects performance [49,52]. When implementing external interventions to motivate HWs, it is necessary to consider the dynamics and nature of workplace trust relationships to avoid undermining existing intrinsic motivation, which is important to performance and may be less expensive to promote than other forms of performance management [4,45].
Conclusion
The findings in this systematic review highlight the value of workplace trust relationships in influencing the intrinsic motivation of HWs, which is itself a critical and positive influence over HWs' performances. The review is, therefore, important in contributing to the literature on motivation in the health sector, identifying opportunities for further empirical research and informing policy discussions about how to influence HW motivation to support retention and good quality of health care services.
The review suggests that health systems in different contexts can strengthen workplace trust relationships and intrinsic motivation through positive social interactions, effective communication and good supervisory mechanisms. Professional development activities, training of health workers and organisational and human management practices, processes, resources, structures and culture play critical roles in establishing the positive workplace trust relationships that promote intrinsic motivation.
Yet the evidence in this review also shows that there is limited empirical research on trust and motivation in the health sector. The review is inconclusive on the complex interaction between trust relationships and health worker motivation and their impact on retention, performance and delivery of quality patient care. Therefore, the reviewers recommend further empirical research to investigate this neglected but important aspect of health system strengthening. Further work should also focus on understanding the factors that undermine or strengthen intrinsic motivation in relation to the existing interventions targeting extrinsic motivation, and the broader determinants of motivation.
Abbreviations
HICs:

High-income countries
LMICs:

Low- and middle-income countries
HWs:

Health workers
HRM:

Human resource management
Declarations
Acknowledgements
We acknowledge Tamzyn Suliaman, University of Cape Town's Health Sciences Librarian, for her tutorials and guidance on navigation of the different databases that were accessed for this review.
Authors' Affiliations
(1)
Health Policy and Systems Division, School of Public Health and Family Medicine, University of Cape Town, Observatory, South Africa
(2)
Health Economics and Systems Analysis Group, Department of Global Health and Development, London School of Hygiene & Tropical Medicine, London, UK
Copyright
© Okello and Gilson; licensee BioMed Central. 2015
This article is published under license to BioMed Central Ltd. This is an Open Access article distributed under the terms of the Creative Commons Attribution License (http://creativecommons.org/licenses/by/4.0), which permits unrestricted use, distribution, and reproduction in any medium, provided the original work is properly credited. The Creative Commons Public Domain Dedication waiver (http://creativecommons.org/publicdomain/zero/1.0/) applies to the data made available in this article, unless otherwise stated.