Methodology

Open Access

Open Peer Review
This article has Open Peer Review reports available.
Forecasting the need for medical specialists in Spain: application of a system dynamics model
Human Resources for Health
2010
8:24
Received: 27 October 2009
Accepted: 29 October 2010
Published: 29 October 2010
Abstract
Background
Spain has gone from a surplus to a shortage of medical doctors in very few years. Medium and long-term planning for health professionals has become a high priority for health authorities.
Methods
We created a supply and demand/need simulation model for 43 medical specialties using system dynamics. The model includes demographic, education and labour market variables. Several scenarios were defined. Variables controllable by health planners can be set as parameters to simulate different scenarios. The model calculates the supply and the deficit or surplus. Experts set the ratio of specialists needed per 1000 inhabitants with a Delphi method.
Results
In the scenario of the baseline model with moderate population growth, the deficit of medical specialists will grow from 2% at present (2800 specialists) to 14.3% in 2025 (almost 21 000). The specialties with the greatest medium-term shortages are Anesthesiology, Orthopedic and Traumatic Surgery, Pediatric Surgery, Plastic Aesthetic and Reparatory Surgery, Family and Community Medicine, Pediatrics, Radiology, and Urology.
Conclusions
The model suggests the need to increase the number of students admitted to medical school. Training itineraries should be redesigned to facilitate mobility among specialties. In the meantime, the need to make more flexible the supply in the short term is being filled by the immigration of physicians from new members of the European Union and from Latin America.
Keywords
Autonomous CommunityInternational MobilityCausal LoopHuman Resource PolicyHealth Human Resource
Background
The provision of human resources in the health field is a logistical task of great complexity. The need for long-term planning in a context of uncertainty and on a national scale, the interconnections between training, formal position and actual duties, and tensions over jurisdiction between national and regional authorities aggravate the problem. The labour market for health professionals must be extremely adaptable in order to absorb swiftly changes required by new technologies, scientific advances, societal demands, and new models of organization. The job profiles of health specialists, however, have not been adapting to this rapid and exigent pace of change.
A shortage of health professionals, whether because of poor planning or corporative barriers to entry in the profession, appears to be a problem in many developed countries. Planning for health human resources has become a high priority for OECD countries[1]; it was the focus of the World Health Organization (WHO) annual World Health Report for 2006[2]; and at present it is high on the international agenda, with the EU "Green Paper on the European Workforce of Health" [3] and the EU Prometheus research project [4]. In Spain, perceived specialist shortages led the Health Ministry to ask the authors of this paper for a detailed study of the imbalances in the medical labour market in 2005 [5]. The study was updated in 2009 [6]. This article is based on the reports we submitted.
The task of planning human health resources consists in identifying and locating the right number of doctors with the appropriate specialties for the right place at the right time. The 'invisible hand' of the market and the 'stern hand' of government regulation are the tools that governments use, in differing proportions, to achieve this goal. Since there are groups lobbying on both sides, and the matter must be addressed with scientific neutrality, avoiding short-term solutions that are abandoned when the crisis has passed.
A dynamic system is almost always in disequilibrium. The important thing is to know it is on the right track. The challenge of dynamically adjusting the supply and demand of doctors involves making the right decisions at the right time about the number of slots for training, about retention and retirement of doctors in practice, and in regard to medical immigration; ensuring a reasonable composition of specialties and a balanced geographical distribution; and setting the right working conditions and compensation schedules. The planning methods we used are based on 'need,' 'demand' (use), or 'benchmarking' [7].
This planning is additionally complicated because the skill-mix that doctors need changes as their professional roles change and medical organizations change [8, 9]. Globalization, which accelerates and multiplies international mobility and delocalizes some medical services, also makes planning more difficult [10], as it opens nations to external markets. International mobility has a substantial and growing impact on the market for doctors, one that is influenced by both push and pull forces and can at the same time be a problem and a solution [11]. It is useless to limit planning to a national territory, because the trend toward international mobility is irreversible.
There is no perfect method for planning for medical doctors [12]. None of the various methods has been applied in a pure form, although Australia [13–15], Canada [16–19], Germany, France, Netherlands and the United Kingdom have a long history and valuable experience with 'need-based' planning. The United States is a good example of medical assignment based on demand and the market, but in practice this approach is mixed with what is known as the 'professional' model, by which doctors control the entry into the profession and evaluate practice.
In Spain, too, medical professional associations have a say in decisions about the number of specialists to be trained, and in this sense it shares with the United States aspects of the 'professional' model. Health organization in Spain is based on the National Health System, which is fully funded by taxes, with universal coverage and without co-payment (apart from for certain few exceptions such as medicines). From the year 2002, the organization and administration of health is completely decentralized in Spain's seventeen Autonomous Communities. Decentralization of health services began in 1981 with Catalonia and took twenty years to complete; in 2001 and 2002 the state devolved health authority to the last ten communities.
Spain has a population of 46 million people. From 2000 to 2008, due to liberal immigration policies, it had the highest population growth rate of the European Union, with an average annual increase of 1.6% and a total increase of 15%, leading to a great increase in the need for health services, particularly those that are income-sensitive. In this expansive phase, Spain imported physicians from Eastern Europe and above all Latin America. The immigration of doctors, for Spain a relatively recent phenomenon, has reduced the tension between supply and demand, but has also led to professional, social and political controversy.
This study will present a method based on system dynamics for planning for human professional resources in the health sector, and will show how it was applied to physicians in Spain. Our model simulates the evolution of supply and demand of physicians in a predictive timeline up to 2025 for each of the 43 medical specialties. It permits the modification of inputs under government discretion (enrollment limits, specialist training positions, retirement age, etc.), and indicates the various possible vectors of the future evolution of supply and demand of medical specialists under different scenarios of government regulation, technology and demography.
Planning for reducing imbalances in the supply of health professionals in Spain
In Spain there is an intense debate within the medical profession and in society in general about whether to adjust the enrolment of medical students [20], in a context of a disequilibrium [21] between the professions--a low ratio of nurses to doctors--a disequilibrium among specialists, and a moderately uneven geographic distribution of physicians. Some specialties have a top-heavy age distribution, which will lead to a problem of generational replacement in ten or fifteen years that will be difficult to resolve with the current rates of specialist training residencies [22].
On the supply side there are worries about an increased deficit in physicians. One reason is the feminization of the profession (two of every three new doctors are women), which entails a reduction in the total effective workweek, which is also being cut back for sociological and legal reasons. An increased appreciation for leisure time is a pattern common to physicians and other professionals, in Spain and elsewhere. Professionals demand new and better working conditions: flexible schedules, the possibility of part-time work in certain periods and of vacation time in segments. The number of hours that doctors work per week varies significantly between countries, but there is a general trend towards reduction [1, 23]. Although the aging of the physician population does not seem to be a problem overall, the traditional specialties are quite over-age. In recent years the supply of doctors in the public health system has been sapped by a dynamic private sector, which has absorbed much of medical employment. Spain has experienced an unprecedented increase in private medical plans, financed by agreements with the state health system, private insurance policies, direct payments or by way of insurance of foreign patients, and direct out-of-pocket payments by patients who are Spanish residents. Furthermore, beginning in 2000 many Spanish doctors left to work in other EEU countries, particularly the United Kingdom but also France and Portugal, where the salaries and the working conditions were better. The chain of international mobility was completed by the arrival of Latin American physicians, attracted by better working conditions and a common language.
On the demand side, the underlying causes that have affected need for certain kinds of specialists include demographic growth and the aging of the population, which will particularly increase the need for geriatricians, urologists, and family practitioners. In spite of the depopulation of rural areas, a minimum number of doctors must be maintained there for reasons of equity. Furthermore, medical technology increases the need for specialists because of new procedures (such as catheterization in cardiology and new kinds of treatment in oncology) or to treat new illnesses. Although some new technologies replace human labour by mechanization (as in clinical analysis or computerization of information), in general, advances in health technology have been labour intensive, and many new techniques do not replace work but rather create new things for doctors to do. Some technologies permit delocalization, which is already beginning in medicine. For example, x-ray results can be transmitted by the internet to highly specialized centres, geographically concentrated [24], for evaluation. Changes in patterns of morbidity require changes in specialists; for example, diseases new to Spain have entered with the influx of immigrants. And finally, since the decentralization of the Health Service, Autonomous Communities have invested in new hospitals to improve access for their populations, and these in turn must be staffed with specialists.
Ways must be found to pay differential salaries in the public system, where the rigid labour legislation has meant that rural zones and small cities bear the brunt of the deficit in doctors. With its uniform salaries the public sector is less free than the private sector to compensate for the unevenness of supply and demand by economic incentives. International mobility has provided flexibility for the system over the short term. In an open system, international migratory flows attract doctors to some countries and repel them from others. Spain has joined this process of medical internationalization in the last decade.
Results
In the scenario of the baseline model with moderate population growth, the deficit of medical specialists will grow from 2% at present (2800 specialists) to 14.3% in 2025 (almost 21 000) (Table
2
). With rapid population growth like that of the past five years, the tendency towards deficit would be much sharper, and the deficit of specialists would be twice a big as in the scenario with moderate growth, with a drop in the ratio of specialists per 100 000 population from 319 in 2008 to 305 in 2025. But even in a slow growth hypothesis there would be a deficit of 15 200 specialists, or 10.0%, in 2025.
Table 2
Baseline model. Scenario with moderate population growth
| | 2008 | 2015 | 2025 |
| --- | --- | --- | --- |
| Inhabitants | 44 366 332 | 46 333 661 | 48 018 184 |
| Total medical specialists needed | 141 579 | 149 563 | 152 160 |
| Ratio specialists/100 000 inhab. | 144 410 | 157 490 | 173 918 |
| Deficit/surplus specialists (%) | -2.0% | -5.3% | -14.3% |
By specialty there would be significant differences in the trends of physician supply. The projections are largely based on the present number of specialists, the shape of estimated population pyramids (age and sex), and the number of residencies offered. The specialties with the oldest population pyramids, generally the most traditional and which have the lowest proportion of women, have the highest rates of decline in their supply, largely because of the greater rate of exit of specialists from the labour market. This effect is mitigated in those specialties in which there has been growth in the residencies offered and those which have younger population pyramids, which often correspond to those that have a high proportion of women (which in turn has an opposite effect because of their higher dropout and retirement rate). As an example, Figure
3
shows the output for allergists.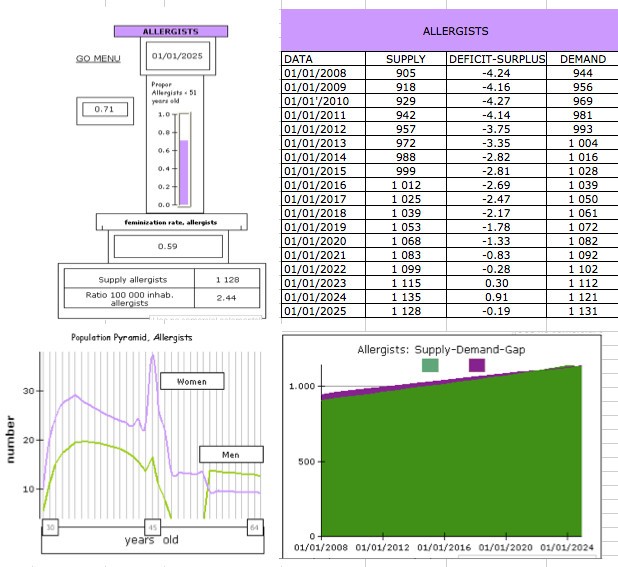 Under baseline parameters, the specialties with the greatest medium-term deficits are Anesthesiology (which in Spain does not include critical care), Orthopedic and Traumatic Surgery, Pediatric Surgery, Plastic Aesthetic and Reparatory Surgery, Family and Community Medicine, Pediatrics, Radiology, and Urology.
There will also be deficits, but less severe, in Vascular Medicine and Surgery, Gastroenterology, Cardiology, General Surgery, Thoracic Surgery, Endocrinology and Nutrition, Geriatrics, Neurosurgery, Obstetrics and Gynecology, Ophthalmology, Medical Oncology, Eye Ear Nose and Throat, Psychiatry and Rheumatology.
Discussion
The methods and applications of System Dynamics and system feedback modeling for policy analysis can assist in designing better policies for the supply of physicians that take into account the complexity of social and ecological environments and a plurality of perspectives.
The main objective of our model was to simulate the consequences of different policies aimed at improving the capacity of the Spanish health system. Schools of Medicine take six years to 'produce' a physician, and the MIR system takes four to five additional years to train a specialist. From the point of view of the model, these are time delays that affect the behavior of the entire system. From the point of view of the planner, he has to make choices one decade before the effects of his policies start to be effective. Ideally, the model could treat the policy variables-numerus clausus, number of MIR positions-as functions of the estimated number of required health professionals, which in turn depends on the lagged choices, in a feedback loop. We decided instead to introduce those policy decisions as model parameters, because our model was design to be used by the planner to simulate the effect of potential changes in their choices. The model does not provide 'a solution', it is rather a tool to know "What would happen if...".
Although the model is a useful planning tool, as a way to simulate the effects of regulatory changes on the health sector it has its limitations. The supply submodel will be realistic in its conclusions to the extent that the entry parameters that govern its assumptions are realistic. Fortunately, the model and the software by which it is implemented allows the modification of these parameters--places for students in medical schools, number of residencies, mandatory retirement age, immigration, etc.-allowing the planner to see what would happen if the parameters under planning control were changed, whether one at a time or in combination. The planner would use the parameters as tools in human resource policy and to regulate the supply.
Another, greater, limitation is the lack of normative standards for the need of specialists, whether by population ratios or other measures. The way the deficit is calculated, based on empirical criterion of demand (number of unfilled positions), assumes implicitly that the present number of staff positions is appropriate.
The model assumes a given level of net immigration (entries minus exits) by specialty and year. Although immigration rates can be used as parameters, they are quite unpredictable, as they depend on international markets and underlying forces of push and pull [52]. State authorities, by the regulation of entry visas and certification, can only partially affect these parameters. Another limitation is that this is an isolated model, only for physicians, and it excludes other health professionals, such as nurses. An integral planning model for health professionals, as recommended by international organizations, would be preferable [53].
Conclusions
In Spain there are deficits of doctors in certain specialties and zones, which will get worse in years to come for easily predictable reasons. These deficits can be due to two causes, those related to price control (the salaries and income of the professionals) and quantity control (barriers to entry into the profession and international mobility). In Spain the deficit of physicians, which varies substantially among specialties, is due to both causes.
We have identified current deficits in some specialties, which could worsen over the medium and long term or be mitigated by human resource policies that the model helps to pre-screen. It will not be easy, however, given the short-term lack of flexibility and capacity for adaptation of the supply of physicians, whose de facto mobility, whether within the country between Autonomous Communities or within the profession between specialties, is extremely limited. There is a persistent problem in the public health system's lack of capacity to attract good physicians for less attractive positions.
The model suggests the need to increase the number of students admitted to medical school, as Spain's neighbours have done in recent years. In the meantime, the need to make more flexible the supply in the short term is being filled by the immigration of physicians from new members of the European Union and from Latin America. Cultural diversity, which might enrich the health system and improve its efficacy with a more suitable assignment, say, of immigrant patients to doctors from their home countries, is not being taken advantage of.
The model already started to prove its usefulness in the planning practice in Spain. Its first version, issued in 2007, contributed to design some changes, particularly of the numerus clausus to medical schools and the number of training positions of medical specialists, by prioritizing those specialties with larger shortages. At present there is a Project for a Royal Decree on the homologation of the medical specialist degree from non EU-countries that tries to solve some of the problems indicated by our analysis.
Authors' Affiliations
(1)
University of Las Palmas de Gran Canaria, Campus Universitario de Tafira, Las Palmas de G.C., Spain
Copyright
© Barber and López-Valcárcel; licensee BioMed Central Ltd. 2010
This article is published under license to BioMed Central Ltd. This is an Open Access article distributed under the terms of the Creative Commons Attribution License (http://creativecommons.org/licenses/by/2.0), which permits unrestricted use, distribution, and reproduction in any medium, provided the original work is properly cited.