Research

Open Access

Open Peer Review
This article has Open Peer Review reports available.
A scoping review of training and deployment policies for human resources for health for maternal, newborn, and child health in rural Africa
Human Resources for Health
2014
12:72
Received: 22 July 2014
Accepted: 28 November 2014
Published: 16 December 2014
Abstract
Background
Most African countries are facing a human resources for health (HRH) crisis, lacking the required workforce to deliver basic health care, including care for mothers and children. This is especially acute in rural areas and has limited countries' abilities to meet maternal, newborn, and child health (MNCH) targets outlined by Millennium Development Goals 4 and 5. To address the HRH challenges, evidence-based deployment and training policies are required. However, the resources available to country-level policy makers to create such policies are limited. To inform future HRH planning, a scoping review was conducted to identify the type, extent, and quality of evidence that exists on HRH policies for rural MNCH in Africa.
Methods
Fourteen electronic health and health education databases were searched for peer-reviewed papers specific to training and deployment policies for doctors, nurses, and midwives for rural MNCH in African countries with English, Portuguese, or French as official languages. Non-peer reviewed literature and policy documents were also identified through systematic searches of selected international organizations and government websites. Documents were included based on pre-determined criteria.
Results
There was an overall paucity of information on training and deployment policies for HRH for MNCH in rural Africa; 37 articles met the inclusion criteria. Of these, the majority of primary research studies employed a variety of qualitative and quantitative methods. Doctors, nurses, and midwives were equally represented in the selected policy literature. Policies focusing exclusively on training or deployment were limited; most documents focused on both training and deployment or were broader with embedded implications for the management of HRH or MNCH. Relevant government websites varied in functionality and in the availability of policy documents.
Conclusions
The lack of available documentation and an apparent bias towards HRH research in developed areas suggest a need for strengthened capacity for HRH policy research in Africa. This will result in enhanced potential for evidence uptake into policy. Enhanced alignment between policy-makers' information needs and the independent research agenda could further assist knowledge development and uptake. The results of this scoping review informed an in-depth analysis of relevant policies in a sub-set of African countries.
Keywords
Africa
Child
Deployment
Human resources for health
Maternal
Newborn health
Policy
Rural and remote health care
Training
Background
The Millennium Development Goals (MDGs), released in 2000, are considered an international blueprint for meeting the needs of the world's most vulnerable people by 2015 [1]. The health and well-being of mothers, newborns, and children, as detailed by MDGs 4 and 5, are at the forefront of many related policy and planning discussions. The global maternal mortality rate (MMR) and child mortality rate have been halved since 1990; however, the MMR in developing areas is 15-fold of that in developed regions and four out of five child deaths under the age of five occur in sub-Saharan Africa and Asia [2, 3]. Persisting challenges in meeting MDGs 4 and 5 in 2015 and beyond are detailed in progress reports, particularly those from many African countries [1]. The MMR in sub-Saharan Africa currently stands at 510 deaths per 100,000 live births, with only 53% of deliveries attended by a skilled health provider [3]. While the birth rate and under-five population are expected to substantially increase in the sub-Saharan region, the child mortality rate (98/1,000 live births) is 2-fold that of the region with the second highest rate, and 16-fold that of developed regions [3]. These staggering numbers are related to pervasive inequities related to broader health and social system issues as well as the stark geographic mal-distribution of health services [4]. Analysis of the current state of maternal, newborn, and child health (MNCH) in Africa reveals a need for enhanced access to primary health care (PHC), emergency services, reproductive health, and family planning. Critical to achieving such enhanced access is the availability, and equitable deployment, of sufficient numbers of adequately trained human resources for health (HRH) to deliver those services [5]. The body of evidence directly linking the increased availability of skilled health providers to improved MNCH outcomes is growing [6–8]. When HRH density increases, so do important MNCH interventions – such as measles immunization and births attended by skilled personnel – which result in increases in maternal, newborn, and child rates of survival [8].
Africa faces a long-standing, unprecedented HRH crisis. Thirty-six countries in the region – the bulk of the continent – have less than the World Health Organization (WHO)'s minimum recommended density of HRH to provide basic health care to their populations [9]. Estimates suggest that nearly 1,000,000 additional personnel are needed to bring Africa up to the minimum WHO-recommended density of 2.3 doctors, nurses, and midwives per 1,000 population [9].
Despite successive resolutions over the last 20 years by the WHO Regional Committee for Africa to expand the continent's health workforce, Africa's regional HRH density actually declined between 2005 and 2010 [9]. Rural areas, which tend to face the largest disparities between population health needs and the necessary HRH and other resources to address them, shoulder the burden of the HRH crisis disproportionately [10]. Underscoring the importance of effective policies for the planning and management of scarce HRH are institutions hindered by poor physical infrastructure, shortages of qualified faculty, and lack of external accreditation, all of which persist despite widespread emphasis on scaling up HRH training as part of broader health system strengthening [11].
In most health systems, expenditure on HRH accounts for approximately 70% of recurrent spending [12]. Therefore, management of the investment that is HRH can have significant implications for those systems. While a number of different dimensions influence how a country's HRH are planned and managed, perhaps the most critical are how HRH are trained and deployed [13–15]. Although information on different countries' HRH policies and practices exists, gathering and reviewing relevant evidence is often beyond the time and resources of many country-level policy makers [16]. In an effort to synthesize existing evidence to inform HRH policy and practice, a systematic scoping review and in-depth analysis of available peer- and non-peer-reviewed literature, as well as unpublished policy documents, on the training and deployment of doctors, nurses, and midwives for maternal-child care in rural Africa, was completed. This paper presents the findings from the abovementioned scoping review, whose purpose was to identify and classify publicly accessible evidence on policies for the training and deployment of doctors, nurses, and midwives in rural Africa for promoting MNCH [17].
Methods
In order to rapidly review the large and complex body of literature that was anticipated to exist for the training and deployment of doctors, nurses, and midwives for rural MNCH in Africa, a scoping method was adopted. This method allows for large-scale accumulation of literature, and mapping of the evidence therein, without discrimination based on methodological criteria to determine the extent of the research themes and gaps requiring additional research [
18
,
19
]. As there is no universally-agreed upon scoping methodology, the specific two-part review strategy for this study was developed in consultation with an international Advisory Group (AG) of HRH and health experts, as well as an information scientist. Inclusion criteria were developed in collaboration with the AG and included as Table
1
. The literature identified through the scoping was used to create a narrative of the relevant, available evidence, including the associated gaps. This review is not intended as a rigorous analysis of the identified studies, or the policies they address; the information provided herein provides a synopsis of the scoping component of the study. However, the scoping review results reported here were used as a preliminary step to inform an in-depth policy analysis for a sub-set of eight African countries: Ethiopia, Ghana, Mali, Mozambique, Niger, Tanzania, Uganda, and Zambia. The methods and results of that analysis are provided in the full report [
17
].
Table 1
Inclusion criteria for peer- and non-peer reviewed literature scoping
| Aspect | Criteria |
| --- | --- |
| Language of publication | English, French, or Portuguese |
| Years published | 1990–2013 |
| Type of policy initiative | Applied (i.e., not theoretical, but some evidence that the policy has been/continues to be implemented) |
| Country or countries of focus | Any African country whose official languages include English, French, and/or Portuguese |
| Policy focus | Training and/or deployment of providers as it pertains to rural health |
| Type(s) of providers | Doctors, nurses, and/or midwives |
| Specific clinical focus | Maternal-child health: reproductive health, pregnancy, birth, newborns, childhood disease, and adolescents |
| Jurisdictional focus | International or national (e.g., not provincial or district-specific) |
| Types of data sources | Policy documents, policy evaluations, professional protocols/clinical guidelines, literature reviews, peer-reviewed research related to policy implementation and/or evaluation |
Peer-reviewed literature
Searches of the following online databases were conducted: PubMed, CINAHL, EconLit, PsychArticles, PsychInfo, Informa Health Care e-books, the Cochrane Library, ABIinform, Web of Knowledge, PAIS, JSTOR, Business Source Complete, ERIC, and EMBASE. The following key words were identified and used in various combinations with Boolean operators (and, or, not): health care delivery, health planning, health policy, policy, population health care needs, health workforce, health human resources, care providers, manpower, personnel, nurses, doctors, midwives, shortage, turnover, deployment, regulation, training, education, incentives, recruitment, retention, attrition, maternal, newborn, child, infant, adolescent, maternal-child care, rural, isolated, low resource, Africa, developing country, low income country, middle income country. Where available and appropriate, MeSH terms wildcards and explosion search strategies (sub-terms and derivatives) were used.
The content of potentially relevant articles was mapped using a data extraction tool as adapted from Price [20] and informed by the Critical Appraisal Skills Programme checklist [21]. Specifically, data for country of focus, document type, policy initiative, jurisdictional focus, provider type, and policy nature were collected. Once mapping was completed, initial exclusions of citations were made if they were not available in full text, published prior to 1990, and did not refer to an African country whose official national languages include English, French, and/or Portuguese. Ethiopia was the only exception; although the country's official language is Amharic, Ethiopia publishes many of its health policy documents in English, and was also identified by the AG as a unique case for consideration due to its achievement of MDG 4 in 2013 [22].
Additional articles were identified for consideration by the Zambian research team as well as the AG based on their personal familiarity with particular African countries. Research team members from Zambia and Canada then pooled these citations with those found in the database searches. From this pool, articles were subjected to an initial abstract review to remove those that clearly did not meet the inclusion criteria. Three members from the research team reviewed the title, abstract, and full text, independently applying the inclusion criteria (Table 1), based on the research questions, for the remaining articles. Inconsistencies in reviewers' inclusion and exclusion decisions were resolved through group deliberation until consensus was reached. The final body of publications was analyzed and synthesized using content and thematic analyses.
Non-peer-reviewed literature
Phase I
For each country in the designated linguistic groups, a directed search of websites operated by ministerial bodies responsible for health planning and policy was conducted. The search engine Google was used to locate such websites, which were then navigated by the tabs and menus (i.e., policies, publications, legislation, guidelines, etc.) available on the homepage. The availability of relevant documents from Ministry of Health (MoH) websites varied considerably. Documents were scanned and pulled as guided by the inclusion criteria (Table 1).
If not available on the ministerial websites, targeted internet searches were used and direct requests made to the AG in an attempt to obtain copies of each country's National Health Policy, National Strategic Health Plan, National Strategic Plan for Human Resources for Health, and/or related documents, if available.
Phase II
Websites of relevant professional associations, research networks, and international and national non-governmental organizations were selected (Table
2
), in consultation with the AG, for further non-peer reviewed literature searching. Based on the individual navigability of each website, unique search strategies were developed; either commencing with topic-relevant tabs (i.e., MNCH, HRH, education, training and deployment, health workforce, policy, etc.) or country tabs.
Table 2
Websites of professional associations, research networks, and international and national non-governmental organizations used in scoping review
Name

Website

African Centre for Global Health and Social Transformation (ACHEST)

African Health Workforce Observatory

Bill and Melinda Gates Foundation

Eldis

Global Health Workforce Alliance

The Health Policy Monitor

Health Professionals for a New Century

HRH Global Resource Center

International Confederation of Midwives

International Council of Nurses

International Federation of Gynecology and Obstetrics

Institute for Education Sciences (ERIC)

Medicus Mundi

Regional East African Community Health (REACH) Policy Initiative

SUPPORT: Supporting Policy Relevant reviews and Trials

THET Partnerships for Global Health

The World Bank

http://www.worldbank.org/en/topic/health/brief/human-resources-health

WHO Collaborating Centre – University of Western Cape

WHO Regional Office for Africa

http://www.afro.who.int/en/clusters-a-programmes/hss/cluster.html
Results
Peer-reviewed literature
The scoping of electronic databases returned a total of 548 peer-reviewed articles, including 122 duplicates. The 426 unique articles were combined with the 87 additional articles identified by the Zambian research team and AG members, totalling 513 articles to be reviewed. Of these articles, 37 met the inclusion criteria (Figure
1
).Articles meeting the inclusion criteria covered 13 of a possible 46 countries included in the review, representing each region of Africa, as well as all designated linguistic groups (Figure
2
). With nine peer-reviewed articles, Ghana had the highest representation, followed by South Africa and articles addressing multiple nations, each with five. Ethiopia had four articles, and the remaining 10 countries were represented by one to three publications each.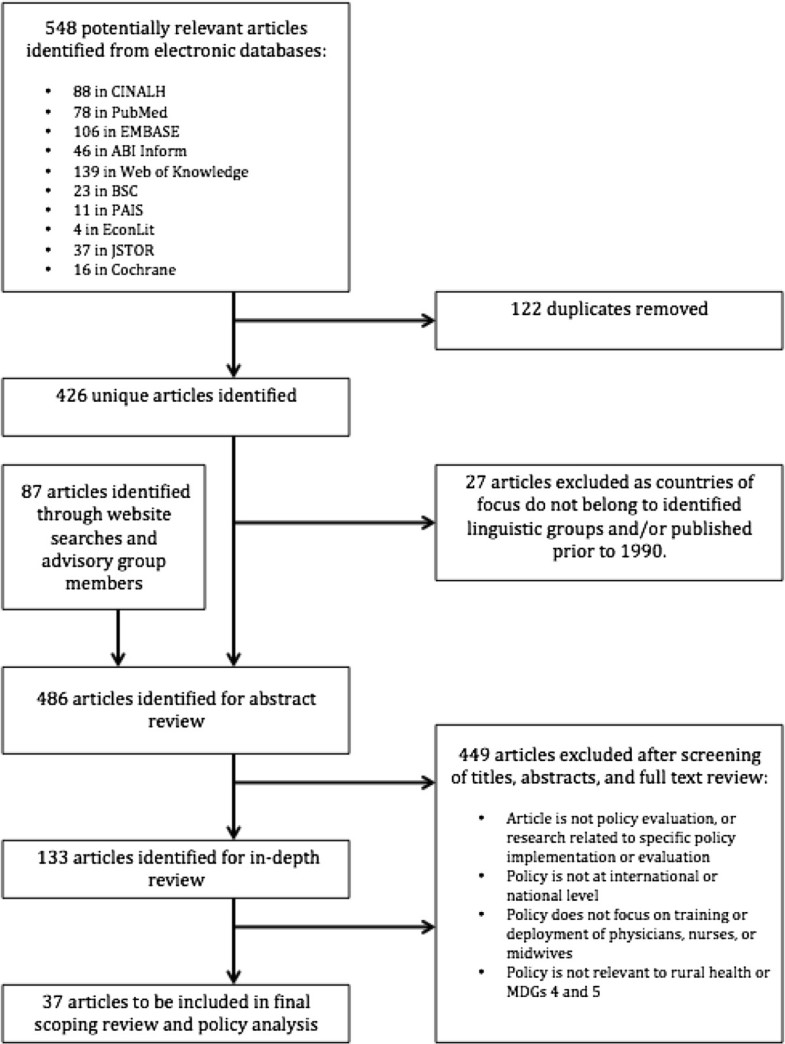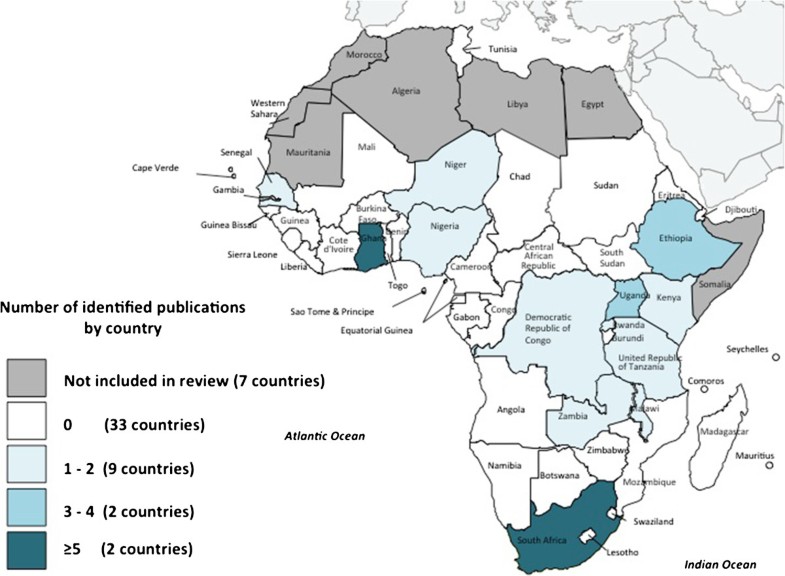 The identified peer-reviewed articles were published in 22 unique journals (Figure
3
). The
Bulletin of the World Health Organization
(3 papers),
Health Policy and Planning
(4),
Reproductive Health Matters
(4), and
Human Resources for Health
(3) were the most frequent contributors. The distribution of articles by year of publication is shown in Figure
4
, and demonstrates that the vast majority (89%) of the peer-reviewed articles were published since 2003.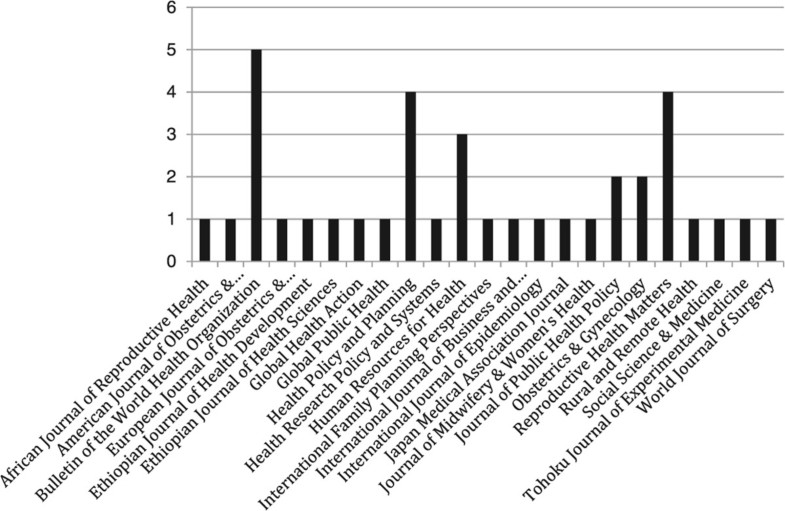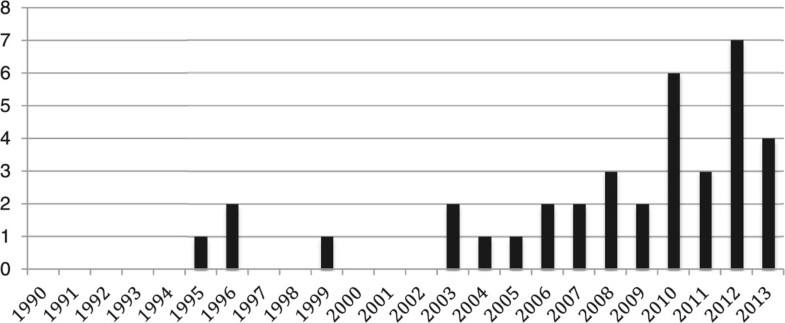 There was equal representation of all professions of focus – doctors, nurses, and midwives – in the identified literature. However, many of the selected articles implicitly included all health professions due to the high-level nature of the policies explored, such as those pertaining to health sector reforms and national health policies. Applicability to rural MNCH similarly ranged from explicit to implicit, based on the level of the policy. Policies that focused exclusively on training or deployment were limited, with the majority of the literature addressing both training and deployment, either directly or as embedded components of broader policies.
A cursory review of excluded policies not meeting all inclusion criteria provided insight into a diverse range of other research and initiatives related to training and deployment of HRH for improved rural MNCH, e.g., i) theoretical policies evaluated using various modelling techniques, such as the Markov models for South African nursing policies, and discrete choice experiments exploring for example how to make rural jobs more attractive to health workers in Tanzania and midwives in Ghana [23–25]; ii) pilot programs designed, conducted, and evaluated for potential scale-up such as the WHO safe childbirth checklist and facility-based multifaceted interventions on obstetrical care quality in Mali and Senegal [26, 27]; iii) literature reviews conducted to take inventory of what is known and which knowledge gaps existed about, for example, the role of private sector in producing nurses in multiple nations, including Kenya and South Africa [28]; iv) in-depth situational analyses to better inform policy priorities [29, 30]; and v) the use of providers outside of our scope such as the use and deployment of community health workers in sub-Saharan Africa and training of traditional birth attendants [31, 32].
A synthesis of policy information provided exclusively from the content of the peer-reviewed literature, classified by policy foci (e.g., training only, training and deployment, deployment only, recruitment and retention, etc.) is provided below, including any available information on the impacts of these policies. A summary is provided in Table
3
.
Table 3
Summary of policies information from peer-reviewed publications
Policy type

Name

Country

Provider(s)

Training

Localized obstetric and gynaecology training

Ghana

Doctors

Life-saving skills

Nigeria

Midwives

Integrated management of childhood illness

Uganda

Doctors, nurses, midwives

Deployment

Rural allowance policy

South Africa

Doctors, nurses

Occupation-specific dispensation incentive strategy

South Africa

Nurses

Financial incentive scheme

Niger

Doctors

Medicalization of rural areas

Mali

Doctors

Emergency hiring plan

Kenya

Doctors, nurses

Plan Cobra

Senegal

Doctors, nurses, midwives

Surgical camps

Uganda

Doctors

Community operation theatres

Uganda

Doctors

Training & Deployment

Emergency human resources program (supporting the Essential Health Package)

Malawi

Doctors, nurses

10 year Strategic Plan for HRH

Zambia

Doctors, nurses, midwives

Rurally located medical schools

Democratic Republic of the Congo

Doctors

Two to four year compulsory service program (CSP) with graded salary, preference for post-grad (PG) specialization, textbooks, computer, degree, variable length of service incentives

Ethiopia

Doctors

One to three year CSP with PG specialization and scholarships incentives

Ghana

Doctors, nurses

Three year CSP with PG specialization and scholarships, career advancement incentives

Kenya

Doctors, nurses

One year CSP with graded salaries and housing incentives

Lesotho

Doctors

Two year CSP with housing and career advancement incentives.

Mozambique

Doctors, nurses, midwives

Two year CSP with graded salary and PG scholarship incentives

Namibia

Doctors

One year CSP with license, PG specialization, and career advancement incentives

Nigeria

Doctors, nurses, midwives

One year CSP with graded salary and license to practice in private sector incentives

South Africa

Doctors

Three year CSP with graded salary, housing, child education, loads, preference for PG specialization and scholarship incentives

Zambia

Doctors

Three year CSP with license to practice and preference for PG specialization incentives

Zimbabwe

Doctors

Embedded

Decentralization

Ghana

Implicitly all

Decentralization

Ethiopia

Implicitly all

Decentralization by devolution

Tanzania

Implicitly all

Sector wide approach

Tanzania

Implicitly all

Millennium rural initiative

Ethiopia

Implicitly all

Rural health improvement program

Niger

Implicitly all

Child survival strategy

Uganda

Implicitly all

Accelerating the reduction of maternal and neonatal mortality

Uganda

Implicitly all

Sexual and reproductive health policy

Rwanda

Implicitly all

Facility-based childbirth policy

Rwanda

Implicitly all

Reproductive health service policy and standards

Ghana

Doctors, nurses, midwives

Cervical screening policy

South Africa

Nurses

Choice on termination of pregnancy act

South Africa

Doctors, nurses, midwives
Policy information from peer-reviewed literature
Non-peer reviewed literature
Phase I
At the time of scoping review, the assessed MoH websites varied widely in the functionality and availability of relevant documents. South Africa's MoH website, Ghana's MoH/Ghana Health Service website, and Mozambique's Human Resources Observatory provided a wide assortment of relevant policy documents. Several other MoHs had operational websites, but had reduced functionality due to broken links, sections designated as "under construction", and/or a lack of available policy documents. MoH websites of some countries were not located at all. Information on content, implementation, and impact of relevant policies for a selected sub-set of countries is provided in the full report [17].
Phase II
Scoping of the selected websites produced a wide variety of applicable literature for the country sub-set selected for the in-depth policy review following the scoping: professional guidelines and protocols, independent policy evaluations, conference notes and proceedings, and additional peer-reviewed literature. These documents, though not synthesized as part of this paper, were used to frame the issues of HRH and MNCH and to inform the country context for the in-depth policy analysis described in the full report [17] and to identify relevant policies to guide specific inquiries for additional information to the AG.
No official government policy documents that met the inclusion criteria (i.e., training and/or deployment of nurses, midwives, and doctors for MNCH in rural Africa) were available through the website scoping. Considering the narrow parameters of the research questions, this was not unexpected. Many of the official government policy documents located via directed Google searches were hosted on websites administrated by international organizations such as the United Nations Population Fund and WHO.
Discussion
Based on the available policy documents, there were several key findings from the scoping review. First, there was an overall paucity of evidence and information on training and deployment policies for doctors, nurses, and midwives for MNCH in rural Africa. Although a multi-faceted search strategy was employed, relatively few policies meeting the specific inclusion criteria were identified. Throughout the scoping of the peer and non-peer reviewed literature, the breadth and depth of work that is being done around leveraging the health workforce for improved health in Africa was apparent. However, comparatively few documents from the original body of reviewed publications met our specific inclusion criteria. Many publications covered policies that were not at the national level, did not target rural zones, had clinical foci other than MNCH, and/or pertained to providers other than doctors, nurses, or midwives. This lack of information may indicate that such policies are scarce or non-existent in African countries, but not necessarily so; it may instead point to varying government capacity to make policies openly and publicly accessible. This is supported through the finding that while many documents were not hosted on governmental websites, they were readily located on the sites of organizations and agencies with a greater capacity for knowledge sharing.
Regardless of the cause, the lack of available evidence on HRH policy design, implementation, and impact in developing countries in Africa suggests that these have not been priority research areas. This bias was confirmed by the multi-national reviews that met the inclusion criteria for this review. All such publications (with the exception of the single review article dealing specifically with MNCH in the 68 priority MDG countdown countries [46]) had an under-representation of studies from Africa; often a factor acknowledged by the authors [36, 41, 51, 61]. Furthermore, it appears that this issue is not unique to Africa. Other developing regions, such as South East Asia, the Middle East, and South America, also suffer from a lack of research specific to the HRH policy process as it pertains to MNCH [66–68]. This reflects not only a lack of research being done where it is needed most (i.e., countries enduring acute HRH crises), but also limits the generalizability of findings to the less developed world [41, 67, 68]. The fact that the majority of peer-reviewed articles were published in 2003 or later may reflect the impact that the introduction of the MDGs in 2000 has had on priority setting for research and policy in African nations and suggests that momentum may be building for both HRH and MDGs 4 and 5 research.
Complete documentation of and/or research on any one policy, from development to implementation to impact, was only apparent if such details were included in an individual peer-reviewed article. No such understanding could be drawn from piecing together multiple articles covering the same policy, as few of the policies identified were discussed in more than one publication. Perhaps more importantly, no such understanding could be drawn from any government documents. This lack of apparent continuous evaluation of policies from development to implementation to outcomes has great implications for the establishment of an evidence-based policy process. Primarily, without on-going monitoring and evaluation, implemented policies cannot be analyzed with respect to their impact, and thus cannot be readily developed upon, improved, or scaled up with success. Secondly, having a less than comprehensive and readily available evidence base will undermine even the strongest political will to use evidence in policy. The lack of apparent evidence-based policy throughout this review underscores an issue, where research is not reflected in health policy and vice-versa, that needs to be addressed [69, 70]. Similar phenomena have been found in other reviews of training and deployment policies for HRH in rural areas [41, 66, 71]. A broad explanation as to why research has so little influence and uptake into policy is that the policy and research cycle occur at different speeds, inhibiting their ability to inform one another [72]. To help address this imbalance and increase evidence use the literature suggests personal communication and knowledge brokering, the broader use of research summaries and with policy recommendations, and timely relevance, which often requires rapid synthesis of pre-existing evidence [72–74]. This disconnect between research and its use in policy demands an improved alignment and coordination between the independent research agenda and the needs of policy makers.
Several peer-reviewed articles noted that policy execution, sustainability, and impact are defined by the context of implementation [45, 63, 65]. For example, the scaling-up of IMCI in Uganda was limited, and IMCI training alone was found not to be adequate to improve child health and that a supportive infrastructure, work environment, access to supplies, and political context were also required [37]. Nigeria, in prioritizing a contextual approach to HRH policy, implemented their Life-Saving Skills training for midwives concurrently with provision of necessary equipment, supplies, and team training. This integrated approach produced a stronger health care team, supportive management, and the identified gains in MNCH [36]. When these examples are considered together with current literature, they suggest that the consideration of context, and its use as a form of evidence, is paramount throughout the policy process and analysis [75–77].
The majority of the included primary research employed a variety of both qualitative and quantitative methods. This diversity of methods provides opportunity for triangulation of findings to inform contextual understanding of the policy process and may be helpful in developing specific recommendations for developing, implementing, and evaluating policy.
Where all included publications and policies covered doctors, nurses, and/or midwives, either explicitly or implicitly, many also addressed provider groups outside of the inclusion criteria such as clinical officers, medical assistants, laboratory staff, pharmacists, and environmental health officers [37, 45]. Many excluded documents also pertained to other professions. This underscores the importance of considering other cadres in the management of MNCH in rural settings and future scoping and policy analysis research.
Although there is an overall paucity of information on the specific types of policies sought, it is evident that attempts are being made to address MNCH in rural Africa. In addition to the increase in the body of related work since 2003, the global HRH policy and research community appear to be continuing to create a rich description of the HRH crisis in Africa. Findings from this review highlight the importance of stakeholder perspectives and consultation – such as community members, providers, and decision makers – in the design, implementation, and evaluation of policies [56, 78, 79]. If complex, comprehensive data is available to decision makers, HRH planning and health system policies are more likely to be responsive to complex contextual factors (political, economic, social, etc.).
Limitations
Individual African country names were not included as search terms for the peer-reviewed literature. Future scoping work should include countries as keywords to identify a larger body of work. Further, given the wide range of terminology used to describe HRH policy options, the search criteria may have missed qualifying documents. Although not feasible for this study, future scoping work should involve forward and reverse citation mining to increase the number of relevant publications.
As limitations in methodology will affect the findings, caution must be taken in drawing firm conclusions from this scoping review about the quantity and quality of work being conducted in Africa related to the training and deployment of doctors, nurses, and midwives for rural MNCH. The results of the review should not be used as a proxy measure for the existence, implementation, and impact of the types of policies in question, but rather as a measure of the features and accessibility of relevant, available evidence on these types of policies.
Conclusions
In order to improve on the current state of MNCH in rural Africa, the available health workforce needs to be effectively governed through strong policies. To inform the required political process and provide insight into existing policies to plan and manage the doctors, nurses, and midwives caring for women, newborns, and children in rural Africa, the study obtained and classified relevant documents through a scoping review. Despite a multi-faceted search strategy, relatively few policies meeting our inclusion criteria emerged. Although limited, the identified policies demonstrated a wide variety of strategies to improve rural MNCH outcomes through the deployment and training of doctors, nurses, and midwives. The relative paucity of information could be attributed to a lack of i) policies specific to this specific union of subjects; ii) prioritization of this topic in the research community; and/or iii) governmental capacity to make relevant policies publicly available. This dearth of readily accessible information has the potential to undermine the intention of decision-makers to use evidence in policy development and must be addressed. Further, it is apparent that policy development should also be informed by contextual evidence, as it can greatly affect the overall policy impact.
The results of this review provided the foundation for the second part of this study – an in-depth analysis and review of HRH deployment and training policies for MDGs 4 and 5 in a sub-set of countries in rural Africa. As identified by both the scoping and in-depth review, expansion of the methodology to include country-specific search terms, additional cadres of providers, and both qualitative and quantitative methods is necessary. Further research is required to explore the factors that influence policy, and how it supports and/or thwarts the education and deployment of HRH to care for women, newborns, and children.
Abbreviations
AG:

Advisory Group
IMCI:

Integrated Management of Childhood Illness
MDG:

Millennium Development Goals
MMR:

Maternal Mortality Rate
MNCH:

Maternal, Newborn, and Child Health
PAC:

Post-abortion care
PHC:

Primary Health Care
HRH:

Human Resources for Health
WHO:

World Health Organization
MoH:

Ministry of Health.
Declarations
Acknowledgements
This work was made possible and was carried out with the support and generous funding from the Global Health Research Initiative, a collaborative funding partnership of the Canadian Institute of Health Research, the Canadian International Development Agency, and the International Development Research Centre. The research team would like to thank our Advisory Group – Dr. Maina Boucar, Dr. Paulo Ferrinho, Ms. Allison Annette Foster, Mr. Solomon Kagulura, Dr. Vic Neufeld, Ms. Jennifer Nyoni, Dr. Francis Omaswa, Dr. Judith Shamian, and Dr. Mohsin Sidat – for their important contributions and support of this work.
Authors' Affiliations
(1)
WHO/PAHO Collaborating Centre on Health Workforce Planning and Research, Dalhousie University, Halifax, Canada
(2)
School of Nursing, Dalhousie University, Halifax, Canada
(3)
School of Medicine, University of Zambia, Lusaka, Zambia
(4)
Centre for Primary Care Research, University of Zambia School of Medicine, Lusaka, Zambia
(5)
Zambia Forum for Health Research, Woodlands, Zambia
Copyright
© Murphy et al.; licensee BioMed Central Ltd. 2014
This article is published under license to BioMed Central Ltd. This is an Open Access article distributed under the terms of the Creative Commons Attribution License (http://creativecommons.org/licenses/by/4.0), which permits unrestricted use, distribution, and reproduction in any medium, provided the original work is properly credited. The Creative Commons Public Domain Dedication waiver (http://creativecommons.org/publicdomain/zero/1.0/) applies to the data made available in this article, unless otherwise stated.