Review

Open Access

Open Peer Review
This article has Open Peer Review reports available.
Service delivery in Kenyan district hospitals – what can we learn from literature on mid-level managers?
Human Resources for Health
2013
11:10
Received: 22 October 2012
Accepted: 8 February 2013
Published: 26 February 2013
Abstract
Background
There is a growing emphasis on the need to tackle inadequate human resources for health (HRH) as an essential part of strengthening health systems; but the focus is mostly on macro-level issues, such as training, recruitment, skill mix and distribution. Few attempts have been made to understand the capability of health workers, their motivation and other structural and organizational aspects of systems that influence workforce performance. We have examined literature on the roles of mid-level managers to help us understand how they might influence service delivery quality in Kenyan hospitals. In the Kenyan hospital settings, these are roles that head of departments who are also clinical or nursing service providers might play.
Methods
A computerized search strategy was run in Pub Med, Cochrane Library, Directory of Open Access Journals Social Science Research Network, Eldis, Google Scholar and Human Resources for Health web site databases using both free-text and MeSH terms from 1980 to 2011. In addition, citation searching from excluded and included articles was used and relevant unpublished literature systematically identified.
Results and discussion
A total of 23 articles were finally included in the review from over 7000 titles and abstracts initially identified. The most widely documented roles of mid-level managers were decision-making or problem-solving, strategist or negotiator and communicator. Others included being a therapist or motivator, goal setting or articulation and mentoring or coaching. In addition to these roles, we identified important personal attributes of a good manager, which included interpersonal skills, delegation and accountability, and honesty. The majority of studies included in the review concerned the roles that mid-level managers are expected to play in times of organizational change.
Conclusion
This review highlights the possible significance of mid-level managers in achieving delivery of high-quality services in Kenyan public hospitals and strongly suggests that approaches to strengthen this level of management will be valuable. The findings from this review should also help inform empirical studies of the roles of mid-level managers in these settings.
Keywords
CompetenciesHealth care settingsHospitalsMiddle managersMid-level managersRoles
Background and context
We face major challenges in providing evidence-informed health care; the right interventions to the right people at the right time in routine settings. This challenge is particularly acute in low-income settings [1, 2] and we, and others, have described specific major failures in hospital care in Africa [3–5]. The provision of poor-quality care has often been attributed to inadequate knowledge and skills compounded by broader system failures and low staff numbers. The need to tackle inadequate human resources for health (HRH), as an essential part of strengthening health systems was emphasized in the 2006 World Health Report [6]. However, the focus of attention has to date largely been on macro-level issues related to workforce training, recruitment, retention, skill mix and distribution. More recently, attention has turned to the capability of health workers, their motivation and other structural and organizational aspects of systems that influence workforce performance [6, 7]. As we make efforts to expand access to a skilled workforce to improve delivery of key interventions we also need to better understand, articulate and develop roles within the health workforce that support effective service delivery.
District hospitals in low-income African settings often have between 60 and 300 inpatient beds and similar numbers of total staff [8]. These numbers, although small by developed-country hospital standards, are typically organized as multiple service delivery units. These reflect the nature of care (outpatient and inpatient) and service type (for example, adult surgical or paediatric wards). Traditionally, the focus in low-income settings among those expected to lead such units has been on technical competence, yet it is increasingly recognized that leadership, supervision, information dissemination and communication are major mediators and moderators of the quality and effectiveness of health care [9, 10]. Furthermore, in previous work we identified such unit heads as a key influence on the effectiveness of an intervention aimed at promoting uptake of recommended practices [11]. We therefore set out to explore what roles such units heads need to play that go beyond their technical competence and that help promote uptake of effective interventions and delivery of high-quality services. We therefore carried out a literature review with a particular focus on empirical literature on mid-level managers in hospitals. The specific aim was to characterize important, non-technical roles of relevance to service delivery unit heads in Kenyan hospitals. We briefly provide a broader introduction to Kenya's health sector before presenting our findings.
Policy context in Kenya
Kenya's evolving health policy context has much in common with that in many Anglophone African countries. The late 1980s saw the adoption of measures inspired mainly by the New Public Management rhetoric [12], such as the introduction of performance management and advocacy for the "empowerment" of managers. In 1992, in the public sector, District Health Management Boards (DHMBs) were created in the country's 71 districts. In theory at least these were responsible for: collaboration and coordination with other district-level health sector actors; planning and regulation of district health systems; and resource generation through the capacity to set user charges [13]. The administrative roles of these boards were endorsed in subsequent National Health Sector Strategic Plans (for the periods 1999–2004 and 2005–2010) while the most recent policy initiatives [14], including those espoused in Kenya's new constitution [15], suggest a continued devolution of powers to senior managers in new county administrations and their hospitals. Alongside this shift there has been an increasing discourse in policy on the need for management skills, if not for professional managers, but over the last twenty years this discourse has largely focused on senior management.
Within the hospital setting, the senior management is made up of a hospital management team that holds administrative power. This comprises persons in charge of administration, nursing, pharmacy and allied health services and is typically led by the medical superintendent. Those in charge of different clinical service units or departments are invariably clinicians and nurses who operate without any specific departmental administrators [
3
]. They are expected to plan and advocate for resources, although they are unlikely to have direct control over a specific departmental budget. Such individuals also supervise teams of front-line workers, either medical or nursing, and contribute directly to service delivery. The lead clinician may have a higher degree in an appropriate medical specialty or, especially in smaller rural hospitals, may still have a general medical qualification. Specialist doctors in leadership roles may have as few as 5 years' total work experience (including their 3 years training), although some will have many more. General medical practitioners in smaller hospitals may have only 1 year of work experience before taking charge of a department. The nurses leading departments tend to have more work experience although very few at this level have any higher training in a specific clinical specialty (for example paediatric or surgical nursing). It is such personnel that are the focus of our concern (Figure 
1
).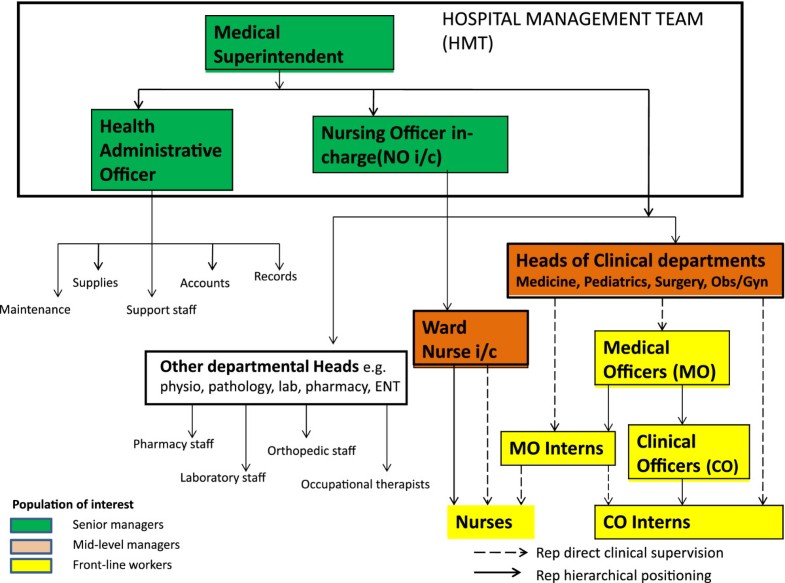 Our prior experience is that the roles of such personnel go beyond direct service provision, and are poorly described in Kenyan policy and little discussed in the literature. Instead, what attention is given to hospital management tends to focus on the administrative roles of the hospital senior management teams. This research suggests that senior managers are often not well prepared [17, 18] for this role although there are current efforts to build skills in these areas through "management training". The potentially important management roles of those at the middle level of management are less well addressed.
Methods
We set out to review the evidence on the clinical leadership and management roles of departmental and mid-level managers in hospital care. A combination of both free-text and MeSH terms, as described in Table 
1
, was used. The databases that were searched included:
Pub Med
,
Cochrane Library
,
DOAJ
(
Directory of Open Access Journals
),
SSRN
(
Social Science Research Network
),
Eldis
,
Google Scholar
and
HRH
(
Human Resources for Health
web site). In addition, we searched the bibliographies of retrieved manuscripts and sought out grey literature, including conference reports and editorial letters.
| Target population (combined with "OR") | Role category (combined with "OR") | Setting (combined with "OR") |
| --- | --- | --- |
| Clinic* OR | Roles OR | Health OR |
| Lead* OR | Competencies OR | Hospital OR |
| Manag* OR | Qualities OR | Healthcare OR |
| Management (MeSH) OR | Responsibilities OR | Health sector OR |
| Clinician manager OR | Strategies OR | Health organization OR |
| Clinician leader OR | Challenges OR | Human Resource Leadership OR |
| Physician manager OR | Barriers OR | Healthcare Systems OR |
| Physician leader OR | Facilitators OR | Health Services |
| Mid-level manager OR | Behaviors OR | |
| Middle manager OR | Style | |
| Departmental leader OR | | |
| Departmental manager | | |
Articles published in English after 1980, irrespective of the study design, were considered for inclusion if the study referred to hospitals or included mid-level managers; reported mid-level managers' roles in practice; or reported the impact, perceptions of or any other outcomes of these roles. Articles for inclusion were identified by the main author (JN) after discussion with a second author (ME) in cases of uncertainty. The search strategy yielded 7040 citations in total from bibliographic databases and 107 articles from our search of the grey literature and expert recommendation. After applying pre-specified exclusion criteria (see Figure 
2
), 23 articles were available for inclusion in our review ([
11
,
19
–
40
], see Additional file
1
). These studies were conducted between 1980 and 2011 and all reports were from developed countries. Nine studies were exclusively conducted in the UK, five studies in the USA, two in Canada, one in Australia and six did not specify the location. Most were case studies (
n
 = 10), but other designs reported included surveys (
n
 = 2) and social network analysis (
n
 = 1). Four reports did not clearly specify the methodological design. Also included were three reports categorized as correspondence, essays, or opinion pieces. Studies mostly focused on nurse managers. One study focused on a variety of industries that included the health service industry.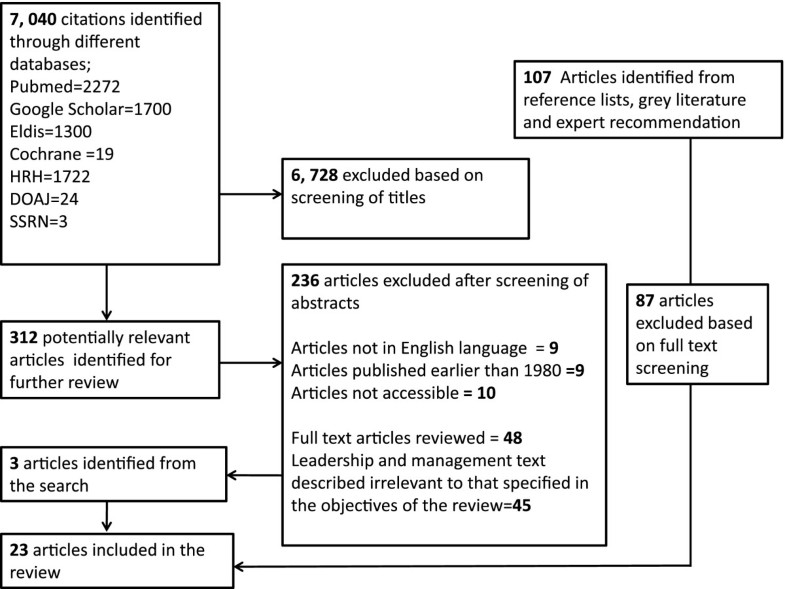 A standard data abstraction table was used to document the identified literature systematically in terms of the nature of the study, its location, research question and the key findings. Tabulated summaries were used to highlight key findings of relevance to our question: what roles ideal mid-level managers might play in ensuring delivery of high-quality clinical services. We considered a role to be "an organized set of behaviours linked to a particular position in an organization", as defined by Guo and Calderon [27]. As identified roles appeared, these were listed. Similar roles were then aggregated into broader thematic roles by referring to the original full texts in an iterative process until conceptually distinct role types were defined. Those articles providing insights on the specific role types identified were then re-examined in detail to help characterize this role type (see Additional file 1). We did not come across any study, of any design, that attempted to intervene specifically at the mid-level manager (MLM) level. While it was not a formal aim of this review to determine whether better hospital services are linked to better mid-level management, we did take note of the authors' observations or conclusions in this area.
Results and discussion
There appeared to be no agreed definition of an MLM. For the purposes of this review, we adopt a broad definition of an MLM in a hospital as a manager who is directly involved in planning and coordinating the production of services that are specific to their own units, bridging the gap between senior-level management and front-line workers. Definitions within the reviewed studies lean more towards those managers who hold primary administrative responsibilities of heading department or units, as well as being in charge of clinical services, closer to clinical hybrid managers [40, 41]. In many cases, however, the managers under study had no personal role in service provision.
Based on the identified literature, we now present the scope and nature of MLMs' behaviours and roles that are reported to support achievement of organizational goals and delivery of high-quality hospital services. These roles are grouped into two main categories with examples of such roles or related personal attributes used to illustrate these categories. We identified six roles related to behaviour as expected actions and three personal attributes or attitudes that support the management role. The former category includes such roles as: mentor and coach, linked to roles as goal setter and motivator and therapist, and strategist and negotiator, linked to roles as information manager and decision-maker and problem-solver. The latter category includes personal attributes or attitudes that promote effectiveness, good interpersonal skills delegation and accountability, and honesty. The themes are described in more detail and summarized in Figure 
3
.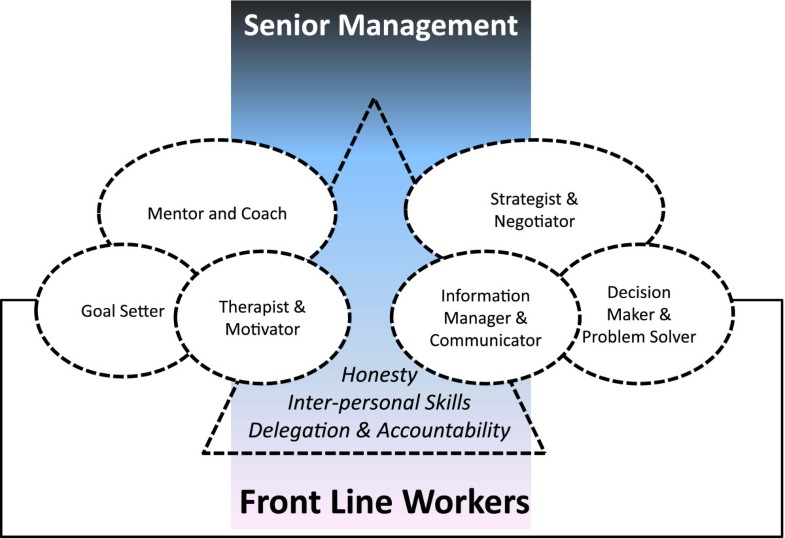 Relevance to Kenyan hospitals
Previous work in Kenyan public hospitals has revealed leadership gaps and poor communication between senior administration and lower cadres as an impediment to achieving better practice [
55
,
56
]. Management training for senior health professionals has been recognized as a priority and is now being provided [
57
]. This review highlights some of the roles that MLMs can play towards achieving delivery of high-quality services in public hospitals in places like Kenya, even though the literature reviewed was from high-income settings. This relevance is based on a number of parallels across contexts. Clinical MLMs in both settings often have a significant professional identity with considerable autonomy within their work and organizational setting. Such autonomy increasingly results in calls for greater accountability, with MLMs having to accept greater levels of responsibility for management. Prompting clinicians to accept management roles is the fear of losing authority and of being treated as simply technicians. Arguably, this results in the emergence of the hybrid clinical manager across many settings. This is likely to be particularly true as Kenya undergoes both major administrative changes resulting from greater devolution [
15
] and because, like other low-income settings, major changes are needed to improve service delivery now and to promote continuous organizational learning and improvement. To achieve this, better support for health professionals who are also MLMs is required in addition to that focusing on the role played by senior managers in Kenya (see Table 
2
). Such training should emphasize the development of personal attributes that facilitate this role and may increase job satisfaction and performance [
21
,
28
,
42
].
Table 2
Current efforts to address the management/leadership needs in Kenya
| Leadership and management initiatives | Key actors | Target |
| --- | --- | --- |
| Approval for creation of additional 400 human resource management positions | Ministry of State for Public Service and awaiting budgetary allocation for implementation | Spread out to all levels of the health system in 2009 |
| Review of top management positions, identifying key competencies, and gaps and providing recommendations for a way forward | Ministry of Health with assistance from Capacity Kenya Project | Launched in 2009 for health workers in public, private and faith based primary health care facilities |
| One month leadership development and management training programme | Leadership, Management and Sustainability Program/Management Sciences for Health | Launched in 2010 in 10 provincial hospitals in Kenya |
| A 5 day modular programme on leadership development and management in Coast and Nyanza province | Japan International Cooperation Agency | In 2009, aimed at strengthening the capacity and functions of the provincial and district health management teams |
| Facilitating the implementation of a 5 day leadership and management development programme in Nyanza Province | International Training & Education Center for Health, Family AIDS Care and Education Services (FACES) and the Provincial Health Management Team | Launched in 2009 to increase the skills and capacities of health program managers–including those on the FACES, provincial, and district health management teams |
| The Management Basics for Effective Health, a management course for District Health Management Team members | The German Technical Cooperation | Launched in 2010 in four district hospitals: Bondo, Butere/Mumias, Gucha and Vihiga |
| International Leadership Training (ILT-Africa) in hospital management for health workers with diverse professional backgrounds in both public and private sector | Inwent, Capacity Building International (Germany), | Launched in 2005 in Cameroon, Rwanda, Malawi, Tanzania and Kenya and ongoing Kenyan participants included nurses, health administrators and medical superintendents from district hospitals |
Conclusion
There is little research on MLMs in low-income settings, yet they appear to hold positions of considerable importance to those concerned with implementing better health services. The findings from this review should help inform empirical work whose focus is on examining such roles and the influence of clinical hybrid managers on care in public hospitals in Kenya. Of particular importance will be uncovering the professional power and autonomy that these managers hold in influencing their peers and followers, particularly in settings expected to change or improve their service delivery. Ideally such research might attempt to explore the implicitly proposed causal linkages between effective MLMs and hospitals' performance in providing high-quality services.
Abbreviations
DHMB:

District Health Management Boards
DOAJ:

Directory of Open Access Journal
FACES:

Family AIDS Care and Education Services
HRH:

human resources for health
ILT-Africa:

International Leadership Training
MeSH:

Medical Subject Headings
MLM:

mid-level manager
SSRN:

Social Science Research Network.
Declarations
Acknowledgements
We thank colleagues from the KEMRI-Wellcome Trust research programme for their support in the conduct of this review. This work is published with the permission of the Director of KEMRI.
Authors' Affiliations
(1)
Health services and Research Group, Kenya Medical Research Institute/Wellcome Trust Research Programme, Nairobi, Kenya
(2)
Nuffield Department of Medicine & Department of Paediatrics, University of Oxford, Oxford, UK
Copyright
© Nzinga et al; licensee BioMed Central Ltd. 2013
This article is published under license to BioMed Central Ltd. This is an Open Access article distributed under the terms of the Creative Commons Attribution License (http://creativecommons.org/licenses/by/2.0), which permits unrestricted use, distribution, and reproduction in any medium, provided the original work is properly cited.